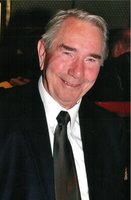 Uwe "Jack" Janzen
Uwe "Jack" Janzen, passed away peacefully, in the early morning hours of March 29th in his 86th year at the Ottawa Civic hospital after a short illness. Jack was with his beloved Eri when he passed.
Jack was predeceased by his parents Erich and Clara and is survived by his devoted wife of 63 years Erika, his son Ronald (Judy) of Bath ON, daughter Iris (Liana) of Ottawa, sister Renate (Werner) of Hamburg, Germany and numerous nieces and nephew's in Germany. Jack was the proud Opa of Erich and Laura.
Jack was born in Hamburg, Germany in 1935. He immigrated to Canada in 1956 bringing with him his skills as a cabinet maker. Jack settled in the Hamilton area where he quickly found employment with Valley City MFG and Erika followed in 1957. Jack and Erika spent time in Dundas and Burlington before settling in Hamilton and raising their family surrounded by many great friends, some who had immigrated with Jack and others, who they met here.
Jack spent many years as a production line manager for Ford Canada in Oakville however, he still used his woodworking skills to provide beautiful cabinets for his family and to renovate their family home. Summers were spent at Long Point Provincial Park until Jack was bitten by the sailing bug. After several years, and boats, sailing on Lake Ontario was not a big enough challenge and Jack and Erika headed out for an adventure of a lifetime in 1982, sailing from Hamilton all the way to the Bahamas and back. That trip settled, in Jack's mind, what he wanted his retirement to look like and Jack and Erika spent their early retirement on their boat, Horizon III sailing from Florida to the Bahamas.
Jack and Erika moved to Ottawa to be closer to their daughter Iris who was a great support for them in the last 6 years. As Jack's health became more fragile and his mobility decreased, he still enjoyed the many facets that the online world had to offer and in particular he enjoyed his flight simulator for hours, taking him back to the days when he held his pilot's license.
The family would like to thank the staff on Floor 5D of the Civic hospital and in particular the palliative care team who have supported the family through this difficult time.
The family is asking in lieu of flowers that donations be made to the Nature Conservancy of Canada, the Heart and Stroke Foundation or a charity of your choice.