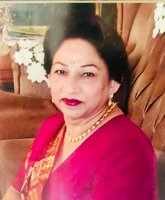 Phulan Aeri
On Monday, April 5, 2021, Phulan Aeri, beloved wife and mother, peacefully passed away at the age of 81, surrounded by her family. Phulan is survived by her loving husband, Sain Dass, and her two daughters Meenakshi and Anjali.
Phulan was deeply loved by her two elder brothers Avinash and Ramesh Bhandari as well as her loving nieces, nephews and family all around the globe extending from India, California, New York, England, and Canada.
She will be remembered for her beautiful spirit, gregarious and charitable nature. A jovial and warm-hearted person, Phulan will be dearly missed by family and friends.
As President of Arya Samaj Ottawa-Carleton, Phulan performed Havans and prayers with dedication. Her love for singing will be cherished by all.
A Private Prayer and Funeral service will be held on Sunday, April 11th, 2021 at 11:00 a.m. (Eastern Standard Time) at Pinecrest Remembrance Services.
Friends and family are invited to join virtually at: https://view.oneroomstreaming.com/authorise.php?k=1617909559109762
Phulan regularly donated to the Queensway Carleton Hospital (of Ottawa, Ontario). If you wish, you may provide a donation in her memory to the Queensway Carleton Hospital.