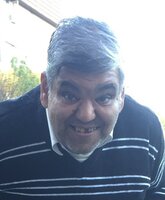 Derrick Philip Roy
Dear brother Derrick,
You will be missed by your surviving brother Henry, sister in law Puri, nephew Omar and niece Tara, who you always expressed affection for throughout your life. They send their love and Tara was especially touched to tears.
Derrick will be missed by family and friends including your late Brother Bob Roy, who is joining you in the next life, and your cousins, Nasreen and Mimi of Toronto and nephew Brandon.
You did not have an easy life but we all admired your perseverance and tenacity-We are proud of your achievements which included a diploma in accounting.
A private family service will be held on Monday, May 23, 2022 at 10:30 a.m. Cremation has taken place. Those wishing to attend virtually can do so by using this link at service time Funeral Service Link. In lieu of flowers, please say a prayer.