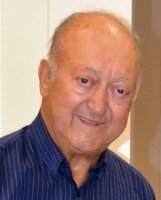 Constantin "Gus" Pezoulas
It is with deep sadness that we announce the passing of Gus Pezoulas, at the age of 90, after a brief illness. Beloved husband to Sonya for 58 years, loving father to Georgia Armstrong (Brian), William (Paula), and Christopher (Kelly), and immensely proud Pappou to Grace Constance and Ava Francesca.
Gus is predeceased by his parents Vasilios and Georgia Pezoulas, his siblings Tasia Petropoulos (Kosta), Nicholas Pezoulas and Thanasi Pezoulas. Gus is survived by his younger brother John Pezoulas (Effie), his sister-in-law Rena Pezoulas and his brother-in-law Leo Christopher (Simone). Gus leaves to mourn many cherished cousins, nephews, nieces, and godchildren.
Born in Montreal and raised in Paradeisia, Arcadia, Greece, Gus returned to Canada at the age of 15 to start a rich new life becoming a community leader and builder of the Hellenic Community of Ottawa, devoting much of his time to the Greek Orthodox Church and American Hellenic Progressive Educational Association (AHEPA) to support those around him.
Gus was a much loved and respected restauranteur and business owner who impacted his community with his generosity and kindness.
Gus will forever remain in our hearts as a cherished and fun-loving husband, father, son, cousin, uncle, grandfather and friend, who always had a kind word and wanted to help others.
In lieu of flowers, donations can be made in Gus' name to the Hellenic Community of Ottawa or the University of Ottawa Heart Institute. A private family funeral service was held on May 31st.
-----