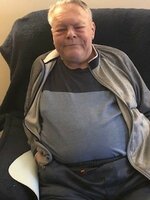 Robert Raymond Gratton

After a long illness and while in hospital; Bob passed peacefully in his sleep at the age of 69 on
Sunday, May 22,2022.
He joins in heaven; his Dad Raymond J., Mom Margaret, brother Raymond H. and his faithful
dog Spike.
Bob loved camping, skiing in his better days and never missed the Havelock Country
Jamboree.
Most of his lifetime employment was driving for OC Transpo.
Bob will be fondly remembered by his sisters Elaine Towell, Marguerite (Fraser MacWilliams),his
brother Jean Francois (Barbara) his nephews and nieces.
We wish to thank Billings Lodge staff and management for their kindness and devoted care
provided to Bob.
Friends are invited to celebrate Bob's life at 11AM on Saturday, June 18th,2022; Pinecrest
Visitation Centre, 2500 Baseline Road, Ottawa.
In lieu of flowers a donation may be made to the Ottawa Wild Bird Centre or The Ottawa
Humane Society.