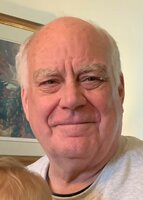 Dr. Gordon Grant Cross
5 February 1951 - 5 July 2022
We are deeply saddened to announce Gordon's unexpected death. He was a brilliant shooting star who burned out far too early.
Predeceased by his parents William and Eleanor Cross, and his brother John; he is survived by and will be much missed by his brothers Peter (Marlene), Robert and David (Michal) and sister-in-law Ava Cross. Much loved uncle and Bubba-monster to Miriam and David Cross, and Alexandra (Ryan Harder), Eric, Elizabeth and Jennifer Cross. Great Bubba to Jeremy and Eleanor Harder. Also predeceased by his cat Neutron.
Gord completed his PhD in organic chemistry at the University of Victoria. His paper 'Synthetic Study of a Photogated Ion Channel' was a monumental blockbuster and a gripping read for those gripped by ion channels.
In retirement, he moved back to Deep River to care for his aging father with patience and compassion. He always enjoyed time at the family cottage at Norway Bay, and regular trips to Ottawa and Toronto to visit his nieces and nephews. His passing leaves a large hole in our lives.
A Celebration of Life will be arranged at a later date for family and friends.