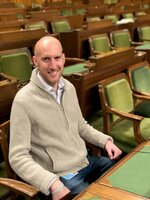 Trevor Robert Thomas Harrison
Trevor Robert Thomas Harrison, 36, passed away on September 13, 2022, surrounded by family at Maison des Collines in Wakefield, QC. He is survived by his partner and the love of his life, Kaisha Thompson, and their beloved dog, Wilfrid. Born on August 20, 1986, Trevor was the youngest son of Karen and John, brother of Christopher (Samantha), and cherished by his many aunts, uncles and cousins.

In 2010, Trevor was diagnosed with a brain tumour after collapsing while playing football with the "Hired Goons". Trevor spent his life dedicated to public service and following his favourite sports teams. He was a loyal friend and lifelong Liberal. As a longtime staffer at Parliament Hill, Trevor will be fondly remembered for his unwavering optimism and kindness.

In his last year, Trevor spent time with loved ones across Canada and abroad. With the help of Scott McCord, he and Kaisha travelled at least 79,000 km to see family and friends. They worked hard to squeeze a lifetime of love, happiness and memories into the time that they had. They are grateful to Trevor's medical teams at the Ottawa Hospital's Cancer Centre, Civic Campus Neurosciences Clinic, Rehabilitation Centre, CLSC, and La Maison des Collines.

A private internment will be held in the morning of September 23rd at Pinecrest Cemetery in Nepean, ON, where Trevor's maternal grandparents (Myrla and George Lidstone) are buried. Friends are invited to join the Celebration of Trevor's Life at Christ Church Cathedral, 414 Sparks Street, Ottawa on Friday, September 23, 2022 at 1:00 p.m. A reception will follow at D'Arcy McGees on Sparks Street from 3:00 to 5:00 p.m.

To honour his dedication to public service, his family asks that in memoriam donations be made to support the Trevor Harrison Civic Engagement bursary, created in partnership with the Brain Tumour Foundation of Canada.