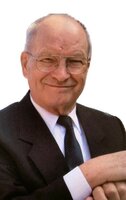 Jaroslaw "Jerry" Wynnyk
Passed away peacefully surrounded by family on Thursday, March 2, 2023 at the age of 88. Cherished husband of the late Irma Wynnyk. Loving father of Ralph (Maria), Michael, Christine (Steve), Teri (Jamie), Mary (predeceased) and son- in-law Clyde. Big brother to Mores and Bob (both predeceased). Cherished grandpa to Scott, Shawn (Nicole), Jessie (Wynnyk), Brian and Darren (Steph) (Kelley), Brittney (Dylan), and Joshua (Hong), Amelia and Samuel (Wynnyk) and Liam (Bell). Beloved great-grandpa to Braeden, Kylie and Maddie (Wynnyk), and uncle to many nephews and nieces.
Proud member of the Royal Canadian Navy for 32 years. Joined as an Able Seaman, was commissioned from the ranks in 1967 and retired as a Lieutenant (Navy).
The Wynnyk family would like to thank Dr. O'Keefe and the amazing team of doctors, nurses, volunteers and other staff at the Ottawa Hospital Civic Campus.
A Memorial Gathering to Celebrate Jerry's Life will be held at the Pinecrest Visitation Centre, 2500 Baseline Road, Ottawa on Sunday, March 12, 2023 from 1 to 3 p.m.
In lieu of flowers, donations to the University of Ottawa Heart Institute would be appreciated.