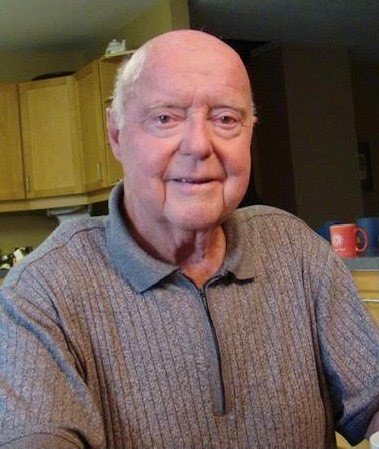 Obituary of Thomas Pegg
May 20, 1933 - January 22, 2021
After a full and happy life, decades of health challenges and some miraculous recoveries, Tommy Pegg passed away peacefully in his sleep in the early hours of January 22. He will be missed dearly by his loving wife Jean (nee Thebarge), his children Allison Adam (Steve), Dale (Jodi), Lesley Walker (late Richard) and Deanna Harris (Joren) and much beloved grandchildren: Reilly, Maggie, Evan, Lacey, Charlie, Nolan, Lilah, Grace, Hannah, Aidan, Shannelle, Tate, Blake and Bryce. He was predeceased by his brothers Jack, Jimmy, George, Bernard, and Michael. He is survived by his caring sisters Mary McNeilly, Pat Loucks, Evelyn Fry, Connie (Kent) Smith, Beth (Laurens) de Kleine and sister-in-law Jeanne Thebarge. Tom will be fondly remembered by dozens of nieces, nephews and friends.
Tommy was raised in a poor but devout and loving family of St. George's Parish where the example of a working mother of eleven, the scarcity of the Depression and WWII and the discipline of Sister Ignatius instilled a lifelong appreciation for honesty and hard work. His upbringing also imparted gratitude for every blessing. Like his siblings, Tommy started his career early, helping his older brothers deliver papers and later milk door-to-door. He eventually found the trade he would grow to love and serve for 60 years, as a plumbing apprentice with Floyd Loucks and later becoming a foreman at Bradley's Plumbing and eventually, as a Master Plumber, establishing Thomas A. Pegg Plumbing and Heating Ltd., which Deanna now runs. As a husband and father, he was a great provider who converted his hard work into a rich family life that included trips to BC, St. John's and Florida, and summers at White Lake or by the pool. As a friend and neighbour, his mechanical know-how was stellar and often put to good use, as was his hospitality, which usually culminated in conversation and laughter over liqueurs, with an Irish inflection. Tom's generosity was evident in the many Wednesdays spent taking St. Brigid's Summer Camp-goers waterskiing and in his support of other local charities like the Shepherds of Good Hope. He loved to fish, travel and explore the backroads of the Ottawa Valley. He was also a man of faith who began and ended each day with prayer and thanksgiving. We thank the Lord for his life and example.
Due to COVID-19 a Funeral Mass will be held in the spring. In lieu of flowers, donations to the Shepherds of Good Hope or the Salvation Army would be appreciated. Thank you to the caring staff at Hazeldean Gardens and to the many medical practitioners who helped Tom over the years.
To express condolences, make a donation or plant a tree in memory, please visit www.colefuneralservices.com


Share Your Memory of
Thomas
Pinecrest Remembrance Services


2500 Baseline Rd
Ottawa, ON K2C 3H9

Telephone: (613) 829-3600
Fax: (613) 829-8357
Email: info@pinecrest-remembrance.com