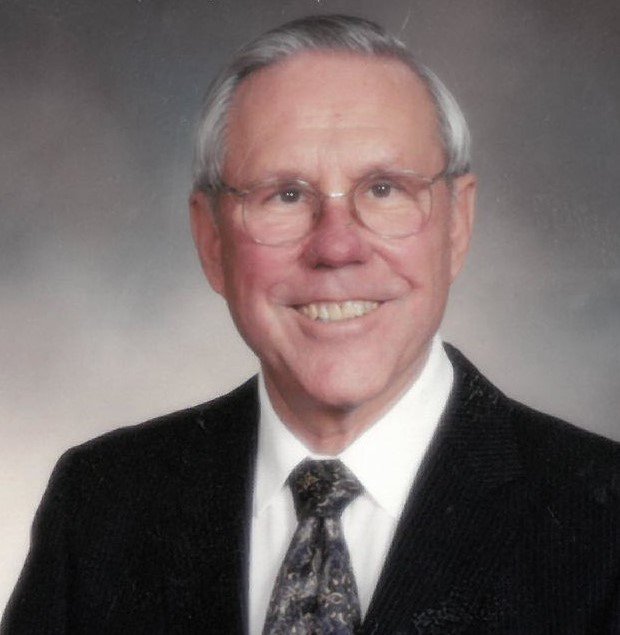 Obituary of Kenneth John McCrimmon
Passed away on Monday, February 15, 2021. He is survived by Carolyn his beloved wife of 20 years; his daughter Suzanne, his son Michael, his grandchildren Jannika Baird (Stewart) and Brandon (fiancé Nicole Lubits), his great grandchildren Asher and Brooklyn Baird. Also survived by Patti (Peter Tilley), Bill (Debbie), Laurie and Nancy Lascelles. He was predeceased by his parents, Helen and Louis, and his late wife Anne.
Ken's life was well lived – he enjoyed traditional jazz and the many friendships he made with musicians. His life-long interest in history resulted in book collecting and correspondence with the famous and infamous. He treasured his long-term relationships with many friends and neighbours. Among his special friends were Merv Wells, Rene Melancon, Frank Lascelles all deceased. Ken especially valued his long-time friendships with Irwin Fuss, Ken and Audrey Rylott, Brian and Cathy Pope, Jim Psarras, Joe McGoey, Allan MacEwen, Bob and Pat Hash, Allan Ruckenstein and Sandra MacLaurin.
He was an admired and respected business man. He spent his entire working career in the petroleum business starting in 1951 with the S.F. Bowser Company. He then joined Canadian Petrofina Ltd. and subsequently became District Manager for Eastern Ontario. In 1961, he left Petrofina to become the founder and General Manager of Top Valu Gasmarts for M. Loeb Ltd.
Ken spent many years in the wholesale and retail gasoline business co-founding Kenoco Inc, Cencan Petroleum Ltd, Suny's Inc, MX Petroleum (Canada), MX Petroleum (US) and Niapen Oil Inc. Ken believed the solid reputation he attained as an independent marketer was attributed to the loyalty and support of his business partners which included Bert Loeb, Joe McGoey, Allan MacEwen and Brian O'Mara. His success is measured not only in his many achievements but in the lasting relationships with partners, business associates and employees.
Ken was also active in community service and charities throughout his lifetime. He managed teams in the Leslie Park Little League for eight years and raised funds for the Pinecrest Selects hockey team. He was also a faithful supporter of his family's various extra-curricular activities including his son's hockey, his daughter's ballet, his granddaughter's champion equestrian career and his grandson's soccer.
His charitable contributions included the Ottawa Hospital, Ashbury College and Glebe St James United Church as well as various other charities over the years. He was a former member of the Kiwanis Club.
He enjoyed travelling with his wife Carolyn. Their travels included a road trip throughout the United States, vacations in the Caribbean and several visits to various countries in Europe. Ken particularly enjoyed his trip to China with his daughter Suzanne.
Due to Covid 19, a private family service will be held at the Pinecrest Remembrance Chapel followed by interment at Pinecrest Cemetery. For those wishing, donations may be made to the Canadian Kidney Foundation https://kidney.ca/ or the Ontario SPCA https://ontariospca.ca/


Share Your Memory of
Kenneth
Pinecrest Remembrance Services


2500 Baseline Rd
Ottawa, ON K2C 3H9

Telephone: (613) 829-3600
Fax: (613) 829-8357
Email: info@pinecrest-remembrance.com