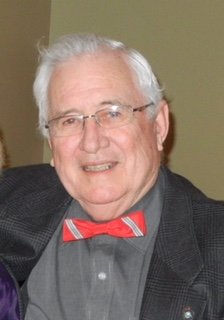 Obituary of Haddon Gardner Littleton
What a wonderful life. Haddon/Dad lived life to its fullest.
Haddon passed away peacefully after a hard fought battle with cancer.
He leaves behind his beloved wife Margaret Littleton (Malone) after 67 years of marriage. His children Margaret Anne Brockbank (Jim), Wendy Mains (David), Ron Littleton (deceased) and Richard Littleton (Sylvia).
Grandchildren, Erica, Alana, Rick, Devin, Matthew, Alexander and Jenna and lots of great grandchildren
Predeceased by his parents John and Jean (Chamberlin) Littleton. Cherished brother to Aldyth Holder (Doug), David Littleton (Norma Jean), Joyce Simmonds (Gordie) and Keith (Deceased).
He will be missed by his many cousins, nieces and nephews.
Haddon/Dad loved life to the fullest. A proud member of the Chamberlin clan of Poltimore. In his youth, he particularly loved his days at the farm during the summers at the Edward's in Cumberland. He also spent considerable time helping his Dad in the cheese factory.
Haddon/Dad was extremely proud of his service and experience as a jet pilot in the Canadian Air Force from 1954 to 1957, being a proud member of 439 Squadron while stationed in Europe.
His time at the cottage at Constance Bay with a growing family was very memorable, especially with his precious ski boat. His efforts to keep sand out of the boat or not sticking paddles in the sand were routinely ignored by the kids. Though he was a non-swimmer, he took up waterskiing with great determination.
As a plumber with AC Malone Plumbing and Heating he served many people throughout Ottawa. Chatting with customers and getting to know them over the years was the most enjoyable part of his job and something he really valued.
Haddon/Dad loved snowmobiling on the upper Gatineau trails and made many friends over the winter seasons.
In later years following retirement, he and Margaret took up RVing. Spending a number of winters travelling to Arizona. They developed a close and warm friendship with many other RVers. It was a particularly enjoyable time in their life.
Thank you for the compassionate care given by Dr Cross and the very attentive and caring staff at the Ruddy-Shenkman Hospice.
We will miss his down to earth sincerity, his infectious grin, his very corny jokes and the very creative ways in which he simplified numerous day to day mechanical tasks.
Thanks for being such a special husband and father. Ron is waiting for you after all these years.
In lieu of flowers Haddon/Dad and the entire Littleton family would appreciate any donations to be made to the Ruddy-Shenkman Hospice.
Ruddy-Shenkman Hospice - Canadian Hospice Palliative Care Association
Due to Covid a private funeral has been arranged.


Share Your Memory of
Haddon
Pinecrest Remembrance Services


2500 Baseline Rd
Ottawa, ON K2C 3H9

Telephone: (613) 829-3600
Fax: (613) 829-8357
Email: info@pinecrest-remembrance.com