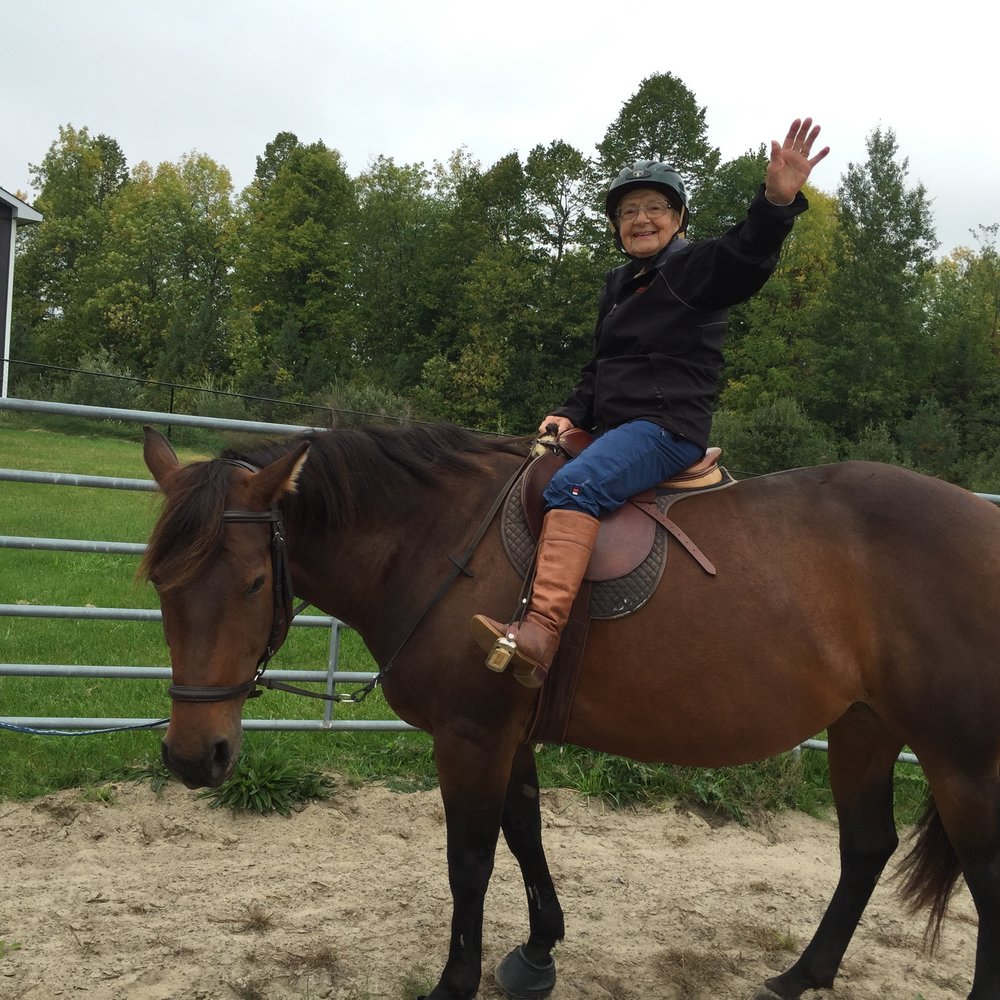 Obituary of Val Willis
Vera Audrey Layton Willis, known to all as Val, a dynamic and energetic centenarian, went to bed in her beloved apartment at the Carlingwood Retirement Community, not awakening for her morning 7:00 bike ride in the gym on Sunday, July 11th. She had entertained friends, hosted a bridge game and watched her favorite television program Jeopardy and sent numerous good night e-mails from her cherished iPad before retiring. Born on September 30, 1920, in Cape Breton she earned her teaching degree in Truro, N.S., graduating from Mount Allison University and started her career in a one room schoolhouse in Garbarus, Nova Scotia. She then taught in the Montreal area and Magog, Quebec. While in Magog she had her own television and radio broadcasting programs. It was there also, with her then husband, that in 1957 they founded Wilvaken, an international camp for children that continues to operate. So active was she in camping life that she served as President of the Quebec Camping Association. She was a strong supporter of The Women's Canadian Club, joining in 1950, and as National Vice-Chair in the '60's, travelled from Halifax to Vancouver promoting the Canadian Club. Moving to Ottawa in 1988, she took up golf and was a long-time member of the Royal Ottawa Golf Club, her second home. Some fifteen years ago she had triple bypass heart surgery and nagged her surgeon for the green light to return to golf; she continued to play until she was 97. Val's adored daughter Kenra, the light of her life, was a competitive equestrian who competed internationally. Val had been very supportive and helped Kenra start Willaway Farm, near Almonte, Ontario. Sadly, Kenra passed away from cancer at age 49. In clearing up her daughter's estate Val found a manuscript, written by Kenra as a pre-teen, on horses and their care. Val had the work published, promoted it and raised $10,000 for the Canadian Cancer Society, as well as donating $13,000 to the Almonte hospital, where her daughter had died. Val loved horses, having owned her own former RCMP mount and even managed to do yoga on horseback at age 95. Her commitment to physical fitness also showed in her cross-country skiing which involved competing for 20 consecutive years in the 100-mile ski marathon. She took part in aqua fitness, memory and book clubs and played bridge avidly, achieving a grand slam within 10 days of her death. Always active and enjoying keeping her brain working, she also served for 25 years as a docent at the National Gallery. In 2003 Val sold Willaway to Susan Allan, "a kindred spirit" who became a major part of Val's life. She was "adopted" into Susan's family, attending fortnightly family dinners and all holidays until the pandemic hit. Val will be missed by so many, especially her cousin Shirley MacArthur of Calgary. Val loved to write and encourage people and sent copies of Kenra's book "My Horse, My Passion" to hundreds of people that she felt deserved recognition and making even more lifelong friends. Her final note was hand written just before her last bedtime and was to the Queensway Carleton Hospital for their kind and considerate care of her for a recent stay and signed "100 Year Old LOVE to everyone!" Her bright and inspiring light will be missed.
A Celebration of Val's Life will be held at Willaway Farm, 514 Ramsay Conc. 12, Almonte, Ontario on Friday, July 23 from 2:00 – 4:00 p.m.. In lieu of flowers, donations can be made to a charity of your choice. Please give someone a reason to smile today… for Val!
Celebration of Life
2:00 pm - 4:00 pm
Friday, July 23, 2021
Williaway Farm
514 Ramsay , Concession 12
Almonte, Ontario, Canada


Pinecrest Remembrance Services


2500 Baseline Rd
Ottawa, ON K2C 3H9

Telephone: (613) 829-3600
Fax: (613) 829-8357
Email: info@pinecrest-remembrance.com