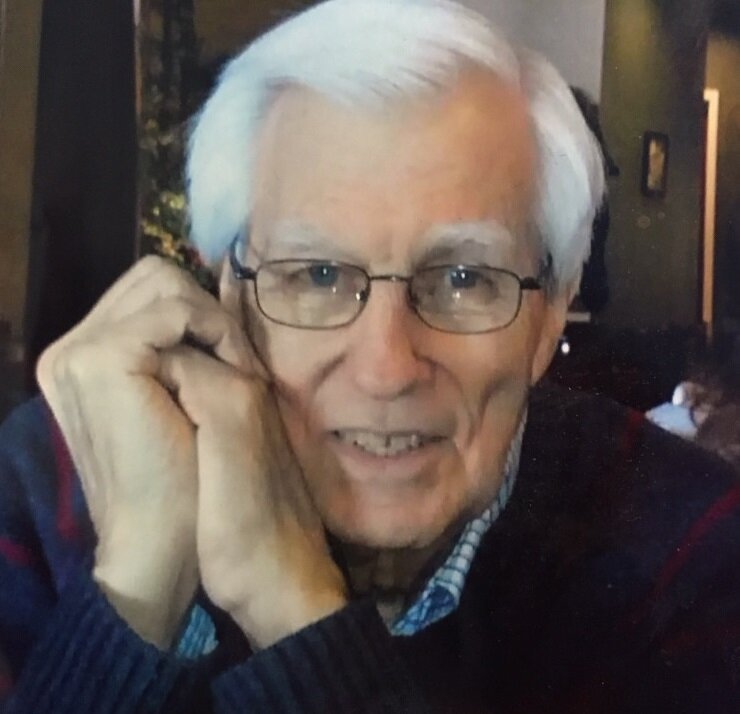 Obituary of Roger Carlyle Moyer
March 13, 1934 – March 20, 2022
Roger passed away peacefully in hospital March 20, 2022, one week after his 88th birthday. Predeceased by his parents Wayne and Arletta Moyer, his brother Graydon (Mary) and sisters Kathryn and Madeline Pullen (Bill) all of St. Catharines, Ontario.
He is reunited with his wife of 64 years, Diane, who passed away 6 months prior.
He was the loving father of Karen (David) and Jeff (Sue), and the much-loved Papa of Chelsea (Gord), Clint, Matt (Becca), Tara, Allie (Nick), Lane (Chris) and Isla, and the very proud Great-Papa of Johnathan, Benjamin, Samuel and Teddy. He tolerated his grand-animals.
Roger received music degrees from Moody Bible Institute in Chicago and Houghton College in New York. He went on to teach at Mountainview Bible College in Didsbury, Alberta, and Hillcrest Christian College in Medicine Hat, Alberta. From there he attended Canadian Theological Seminary in Regina, Saskatchewan, where he received his Master of Divinity. He spent 2 years as Associate Pastor of Central Alliance Church in Ottawa, and then went back to school at St. Paul University where he received his Master of Marriage and Family Counselling and a Master of Pastoral Studies. He and Diane founded Christian Counselling Ottawa in 1978, where they were instrumental in helping countless individuals and families over the years.
Music and laughter (he liked to jokingly introduce Diane as his 'first wife') were a huge part of Roger's life, and he had a lifelong passion for learning. He was a prolific writer, and authored several books and countless articles and poems. He loved to blow things up – firecrackers, caps - anything that would make a big noise. The best tv shows and movies were ones with a lot of explosions. In earlier years he loved to play baseball and waterski.
He was kind, generous, curious, hilarious (in his own mind), and loved his family fiercely.
Roger will be dearly missed by all who knew and loved him. We rejoice with him that he is finally at peace with Jesus after a long life of servanthood and devotion.
Service to be held at Cedarview Alliance Church, 2784 Cedarview Road, Nepean K2J 4J2 on Friday, April 8 at 11:00 am. Private internment to follow at a later date at Pinecrest Cemetery, Ottawa.
In lieu of flowers, we would respectfully request donations to Christian Counselling Ottawa, 63 Glencoe St. #303, Nepean, ON K2H 8S5 https://christiancounsellingottawa.ca/
Memorial Service
11:00 am
Friday, April 8, 2022
Cedarview Alliance Church
2784 Cedarview Road
Ottawa, Ontario, Canada


Share Your Memory of
Roger Carlyle