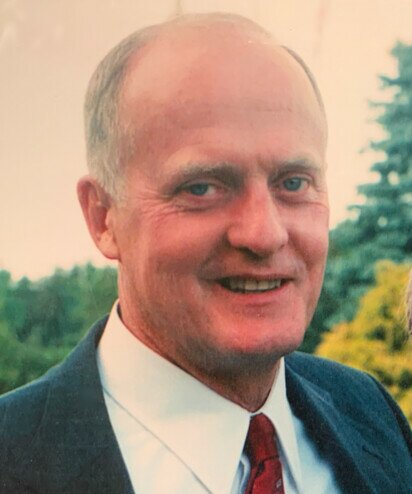 Obituary of William Donald Mackay Sawyer
It is with profound sadness and heavy hearts that we announce the death of William Donald Mackay "Don" Sawyer, loving husband, father and grandfather. Don passed away peacefully June 19, 2022 at Kootenay Lake Hospital in Nelson, BC surrounded by his family.
Don was born in New Glasgow, Nova Scotia July 29, 1938. He spent his childhood years in Kingston Ontario where he honed his expertise in illicit pyrotechnics, ballistics and general mischievousness. He enjoyed sailing with the Sea Cadets, marching with the Fort Henry Guard, and playing drums in the Limestone City Jazz Band. He graduated from KCVI and went on to study electrical engineering at the University of New Brunswick. While swimming for the UNB team he earned several swimming records, as well as the nickname "Flash"- he never did tell us why.
On February 22, 1968, on a blind date, Don met the love of his life, Nancy Tanner. They married April 25, 1970 in Ottawa. There they raised their two daughters, while Don worked tirelessly at his career at BNR, Nabu, and Nortel Networks.
In 1985 Don moved his family to Chapel Hill, North Carolina. His favourite aspects of NC living were warm weather, windsurfing, and the Carnivore Preservation Trust where he was able to support his passion for protecting endangered species.
Don had a brilliant and creative mind, and was dedicated to his work envisioning how advances in technology could be applied in the field of telecommunications. He retired from Nortel Networks in 2000 when he received a special patent award for his contribution as inventor to Nortel Networks SCWID patent, which had achieved special distinction as one of the most valued in Nortel Networks intellectual property portfolio.
Don and Nancy enjoyed a rich and vibrant post-retirement life, travelling the world, scuba diving, and remaining deeply connected to their friends and family in Ottawa.
A new joyful phase of Don's life began in 2009 when his grandsons, Evan Withington and Asher Sawyer, were born. His granddaughter, June Sawyer, was born in 2013. Nothing made him happier than spending time with his daughters and grandchildren.
The final chapter of Don's life began in April 2021 when he and Nancy moved to Nelson, BC to be closer to their daughters and grandchildren. While the multiple small losses of dementia stripped away much of his familiar persona, his gentleness, kindness and loving presence remained to the end.
Don is survived by his wife Nancy Sawyer (nee Tanner), his children Lisa and Katie, his grandchildren Evan (12), Asher (12) and June (8), and his sister Joan Mouldey (nee Sawyer). He is predeceased by his parents Margaret Mackay Ettinger (nee Mackay) and William Reginald Sawyer, and his daughter Jenna (d. 1973).
A Memorial Service will be held in the Pinecrest Remembrance Chapel, 2500 Baseline Road, Ottawa on Saturday, July 9, 2022 at 11:00 am. In lieu of flowers, donations can be made to the David Suzuki Foundation, The World Wildlife Fund, or the Alzheimer's Society of Canada.
Memorial Service
11:00 am
Saturday, July 9, 2022
Pinecreset Remembrance Chapel
2500 Baseline Road
Ottawa, Ontario, Canada


Share Your Memory of
William Donald Mackay