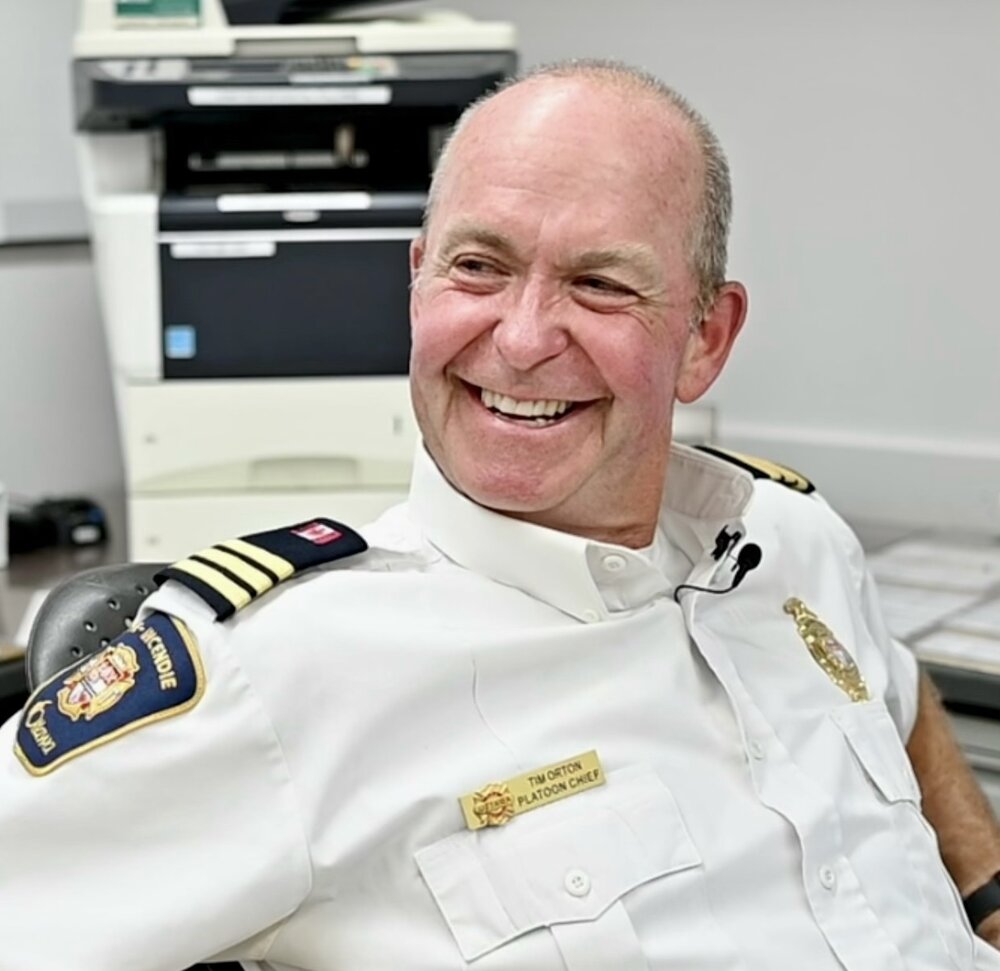 Obituary of Tim Orton
It is with great sorrow that we announce the passing of Tim Orton, retired Ottawa Fire Services Platoon Chief, after a brave battle with an occupational cancer on September 1st, 2022.
He leaves behind his beloved wife Silvana (D'Angelo) and beautiful children Alexander and Christina (Ivana).
Tim was the treasured son of Aldene Britton (late Al) and the late Edward Orton; much loved brother of Robyn, Rick, and Tobi (Chet).
Known by many for his caring ways and contagious smile, he was loved by his large extended family, including his late mother-in-law Maria D'Angelo, Lina (Brian), Joe (Janice), Libby (late Cyril), Ellie (Greg).
He also leaves behind many cherished friends, aunts, uncles, cousins, and a rowdy bunch of nieces and nephews who will miss him greatly.

As a great leader he will be deeply missed by the men and women he served with and remembered as a hometown hero.

Tim's family would also like to thank the Ottawa General Hospital for the excellent care and compassion received over the last three years, with a very special thanks to Kelly-Anne Baines and Neil McMillan OFS.

Family and friends are invited to Pinecrest Remembrance, 2500 Baseline Road, Ottawa, on Saturday September 17th, 2022, from 1pm to 5pm for visitation.
Family and friends are invited to The Prescott, 379 Preston Street, beginning at 6pm for a casual gathering of remembrance.

Even in his final days he always put others first. Memorial donations can be made to the CHEO Foundation for cancer research in the name of Beckett Ritchie (21 months); Tim's great nephew and tiny warrior who is currently fighting his own battle with cancer.
Tim Orton lived VORACIOUSLY; savoring and devouring the best his lifetime had to offer. When he met Silvana over forty years ago, he wasn't going to pass up that hot dish. She was far too tasty. Hungry for life, they married quickly and began cooking up a rich lifetime of enviable moments and experiences.
Tim worked hard to become an Ottawa Firefighter, and to the pleasure of his comrades he could definitely "stand the heat" in more ways than one and earned a reputation as a fabulous cook in the kitchen, whipping up his famous spaghetti dinners amongst other savory dishes.
It wasn't long before there was a "bun in the oven," and Alex was born, followed shortly by Christina. Raising children requires far more patience and care than raising bread of course, but if you know sourdough, you know it takes a great deal of care to keep it growing and Tim was "there for it!". If not working, you could find him with a kid in toe; vacuuming, mowing lawns, building or fixing things. These children were not limited to his own, but many. Young at heart, he became the favorite uncle to any kid he'd meet teaching them everything from mundane tasks to fun-filled activities like water skiing, kayaking, even big rig trucking. His passion for planes had the wee ones often standing at the edge of the runway anticipating landings and take offs.
Not satisfied with a bland palette, Tim was sure to add lots of flavor to his lifetime and engrossed himself in fun and challenging activities. He built houses, drummed in the Ottawa Fire Department Band, loved curling, golf, all things "cottage life", making wine, playing cards with his buddies, and traveling.
Beyond fun, he was always ready to lend a helping hand. Often, he knew what help "you needed" before you'd even know and came prepared better than any Boy Scout that walked this earth. He was an excellent leader, spoke matter, and built confidence in others.
Tim truly did consume life, as he did his food. He would fill his plate with all the offerings, gobble it down and go back for more. From life experiences, to information, learning, friendships, and family; he always made room for more earning his spot at Platoon Chief.
It only takes one ingredient to spoil the soup and in this instance, it was work related cancer . In true Tim fashion, he made the best of it, never complaining and remaining as steadfast and resilient as he was in all areas of his life. Even when he could no longer take those big bites, (literally) he savored every single last drop and shared all his goodness so his peeps would know how truly loved they've been.
Missing him is a tough thing to swallow. His passing is a bitter-sweet way to say goodbye to the kindest man, with the big heart, goofy faces, and baby blues. His shenanigans will be missed when we gather to feast and every day.
While he rests now, all who had the pleasure of knowing him will remember him for his zest for life. Spicy to sweet, and everything in between, Tim brought it to the table for all of us to share.
Regional Contact Story..... From Mop to Top
Service Information
1:00 pm - 5:00 pm
Saturday, September 17, 2022
Pinecreset Remembrance Chapel
2500 Baseline Road
Ottawa, Ontario, Canada
Memorial Gathering