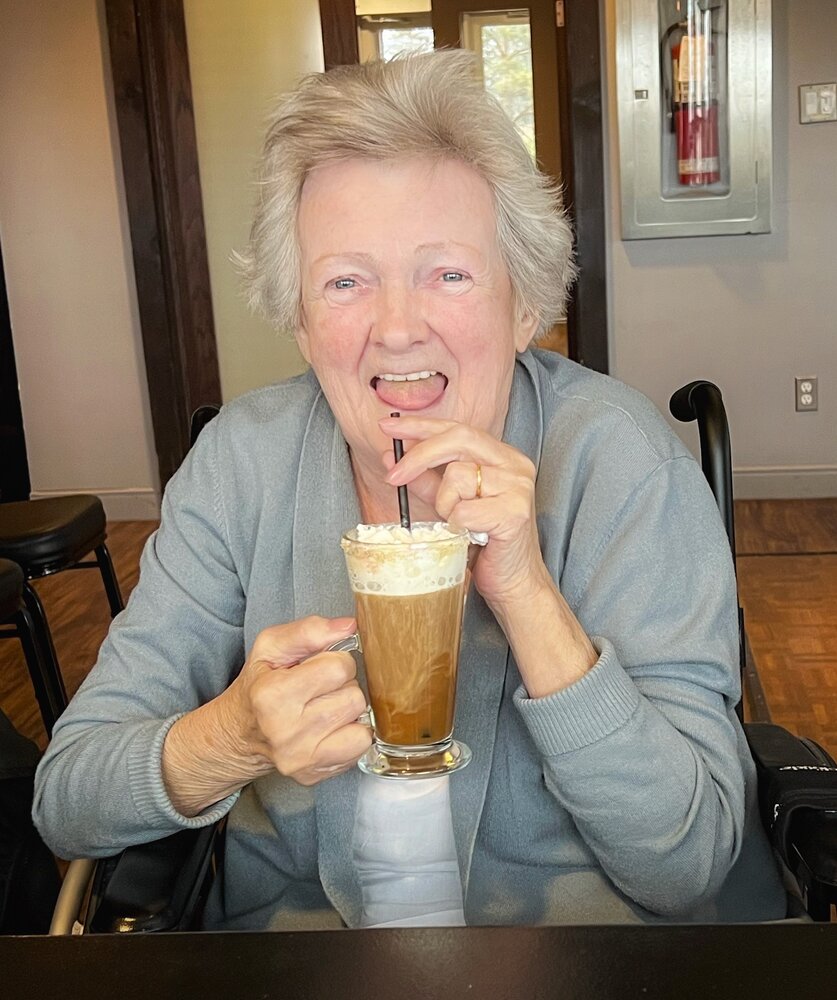 Obituary of Mairi MacDonald
Mairi MacDonald (nee Murray), lover of biscuits, ice cream, Baileys and knitter extraordinaire passed away in the early hours of Saturday, September 24th.
Full of cheekiness in her 81st year she was the epitome of strength, courage and grace. Mairi was always up for a laugh and had a kind word for everyone. She was a gentle spirit with a cheeky side.
Her glass wasn't half-full or half empty - it was refillable. She never once let her MS and more recent cancer diagnosis define her. There are no words to express just how much she will be missed.
Mairi is from the beautiful village of Barvas on the Isle of Lewis, Scotland. She is now reunited with many family and friends including her beloved husband of 55 years, Donald (Donnie) MacDonald, who passed away in July of 2016, her parents Finlay and Jessie Ann Murray and brothers (Neil, Sandy and John), sister-in-law(Nora) and brother-in-law (Alister).
Mairi left footprints of love and kindness everywhere she went. She will be dearly missed and lovingly remembered by her family and friends including her children Derek (Gina), Shona (Tim), Alan and Jessie-Lynn; grandchildren Wyatt, Simeon, Grace, Kaitlynn, Matthew, Cole, Kayla, Sadie, Myles, Timmy, Dakota, Shyenne and Finlay; great-grandchildren Ava, Sebastian, Scarlett, Lennon and Presley; and sisters in law, Elsie, Etta and Peggy. Her absence will be deeply felt by her close friends Mary Helen and Pierette.
Mairi's family would like to express their appreciation to the staff at Valley Stream Retirement Home for creating a home away from home. We are so thankful to Fiona, Debbie (the fairy godmothers of care for seniors) and their staff who went out of their way to make sure Mairi was well cared for over the years.
We are beyond grateful to Kelly, Dr. Spacek and the Ruddy Shenkman staff and volunteers who cared for and created the most loving and peaceful space for Mum (and our family) in her final chapter.
In lieu of flowers donations to the Mowat-Wilson Foundation in honour of her great-grandson Lennon or to Hospice Care Ottawa because everyone should be cared for with dignity and grace.
A funeral service will be held at Pinecrest Rememberance Chapel, 2500 Baseline Road, Ottawa on Tuesday October 11th, 2022 at 1:00pm. For those of you who wish to join the service virtually you may do so using this Service Link.
Memorial Service
1:00 pm
Tuesday, October 11, 2022
Pinecrest Remembrance Chapel
2500 Baseline Road
Ottawa, Ontario, Canada


Share Your Memory of
Mairi