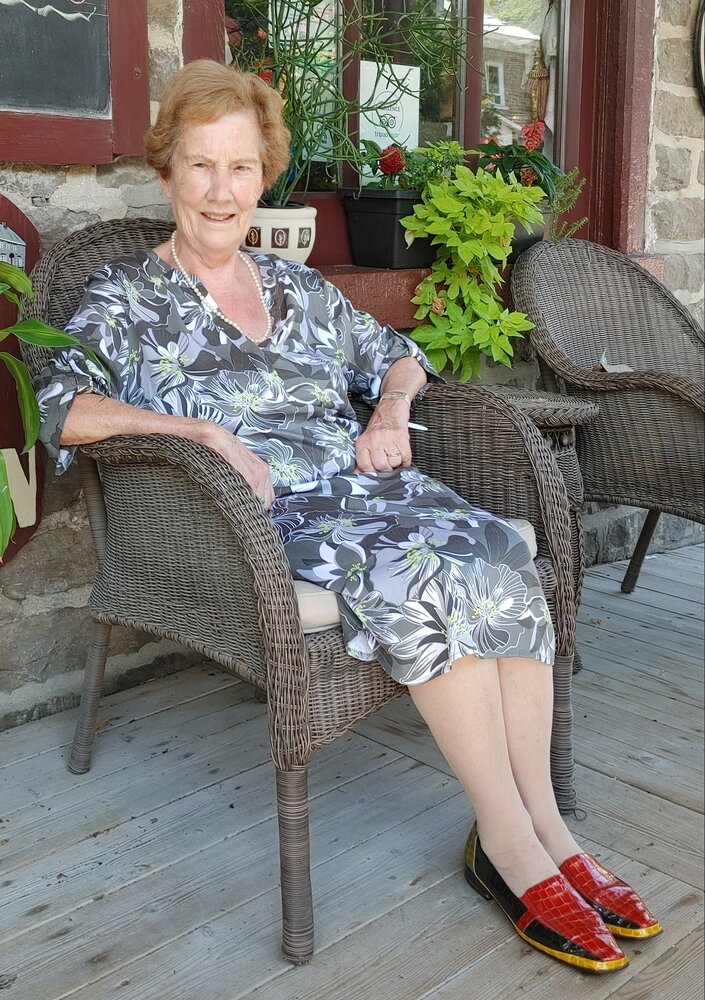 Obituary of Margrit Quecke
MARGRIT HANNA QUECKE
Margrit Quecke, born Hanna Doris Margrit Reimer in Wuppertal Germany on August 12, 1932, was the daughter of the late Karl and Johanna Reimer.
After a brief battle with cancer, she peacefully passed away on Friday, December 9, 2022 at the age of 90 with her family by her side.
Margrit is survived by her three children: Martin Quecke (Amy) of Nepean, Carsten Quecke of Kars, and Astrid Sylvia Racine (Gary) of Cambridge Ontario. In addition, she leaves in mourning four grandchildren: Vanessa Racine Parent, Ashleigh Racine Wolff, Felix Quecke, and Fiona Quecke. Olivia Racine Parent, her great granddaughter, will also miss her Omi. Waltraud Reimer, her sister-in-law and the wife of her late brother Karl Heinz, survives her in Germany.
The war and its upheavals posed many challenges, but Margrit managed to have a relatively happy childhood. In the post-war 1950s, she travelled through Europe and worked as an executive secretary at C&A department store.
1961 was a pivotal year for Margrit, as she became engaged to Peter Quecke, emigrated to Canada, and was married in a German speaking church in Ottawa. In 1962 the young couple, now grown with the addition of Sylvia, moved to the Nepean home that she would live in for the next 60 years.
A lifelong nature lover, she cared and nurtured her home and garden and was the envy of garden lovers everywhere. She offered her suggestions when needed to ensure the beauty of the flowers and plants. Her cats were there to observe the proceedings at all times of course.
Margrit was also a very astute bridge player and she played with passion on a weekly basis until the end. She will miss her Wednesday games at the Nepean Sportsplex Seniors Centre.
She was proud of her German heritage and instilled this in her children with traditional holidays and an amazing Christmas tree with 'live candles' – we were always ready just in case with water but were also mesmerized by the beauty of it all as it shone brightly.
Her Sunday evening dinners were also quite memorable whether prime rib, ham, steak or Sauerbraten; we always tried to save room for her butter cream cake – the best in Ottawa.
An amazing chef – who could cook anything (did I mention butter cream cake anyone?) - she also enjoyed fine dining but over the years she somehow got hooked on eating HARVEY's hamburgers ….. with crispy fries!! No soggy ones bitte.
Mom also made sure that we did many family and individual activities to help us develop into who we are today: from bicycle riding on the weekends to going to the beach along the St-Lawrence Seaway, to girl guides, scouts, soccer, swimming, and piano lessons.
Travelling and walking tours were also some of Margrit's passions, with extensive travelling through Europe, Canada, Barbados, and Mexico. Part long distance walker, part mountain goat – her outings with us in Germany always left us breathless, with her smiling at the end of "a short walk" but with the always enticing reward of coffee, cake and whipped cream at the end of it all.
In remembrance of Margrit and her ongoing passions for animals, she would appreciate that any donations be made to the Ottawa Humane Society.
A funeral service will be held at 1:00pm on Thursday the 15th of December at Pinecrest Cemetery, 2500 Baseline Road in Nepean. This will be followed by the burial and a celebration of life reception.
Funeral Service
1:00 pm
Thursday, December 15, 2022
Pinecreset Remembrance Chapel
2500 Baseline Road
Ottawa, Ontario, Canada
Interment
2:00 pm
Thursday, December 15, 2022
Pinecrest Cemetery
2500 Baseline Road
Ottawa, Ontario, Canada
613-829-3600


Share Your Memory of
Margrit