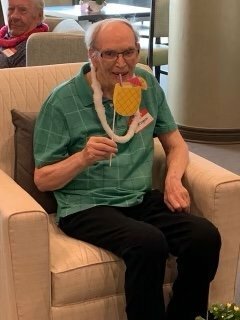 Obituary of Roger Tessier
C'est avec une immense tristesse que nous vous annonçons le décès de M. Roger Tessier, qui est décédé le 28 mai 2023 à l'âge de 90 ans, paisiblement, entouré de ses filles qu'il chérissait.
Il rejoint son épouse bien-aimée Claudette LeHoux Tessier ainsi que ses parents, Claudia Lamarche et Émile Tessier, sa sœur, Angéline Legault, ses frères, Roland et Maurice et plusieurs beaux-frères et belles-sœurs, neveux, nièces et amis.
Outre ses deux filles, Sylvie (Robert Black) et Michèle (Brian Bonini), il laisse dans le deuil ses petits-enfants: William, Caroline, Danielle et Patrick ainsi que son frère Jules (Mariette). Il laisse aussi ses beaux-frères et belles soeurs ainsi que de nombreux cousins et cousines, neveux et nièces et plusieurs amis.
Enseignant, bricoleur et amateur de sports, Roger était reconnu par ses proches comme étant un époux, père, grand-père et frère dévoué qui adorait sa famille. Un homme doux et calme, au cœur d'or, il était passionné par l'apprentissage et pourtant il était aussi sportif qu'il était intellectuel. Mais surtout, il était l'une des personnes les plus positives qu'on ait le bonheur de rencontrer. Dans un tel cas, ça ne serait pas long qu'on soit attiré par son sourire contagieux et son sens de l'humour sans pareil. La peine profonde que nous éprouvons en ce moment est quelque peu atténuée par le fait qu'il soit là où il était le plus heureux, avec maman.
Votre amitié et votre soutien sont d'une grande importance pour nous et nous vous serions reconnaissants de vous joindre à nous pour rendre un dernier hommage à notre père lors de ses funérailles, le lundi 19 juin 2023 à Cole Funeral Services & Pinecrest Remembrance, 2500 chemin Baseline, Ottawa à 11h00. Pour ceux qui ne pourront pas être des nôtres, les funérailles seront diffusées par transmission en direct au lien suivant:
https://view.oneroomstreaming.com/index.php?data=MTY4NjE3MjU0MDI1NTQxNCZvbmVyb29tLWFkbWluJmNvcHlfbGluaw==
Nos remerciements les plus sincères au personnel de la Résidence Timberwalk pour leur dévouement et les soins exceptionnels qu'ils lui ont donnés surtout depuis le décès de maman. Également, au personnel de l'Hôpital Queensway Carleton qui en ont eu soin dans ses derniers mois. En sa mémoire, un don à Parkinson Canada ou à la fondation de l'Hôpital Queensway Carleton serait grandement apprécié.
It is with tremendous sadness that we announce the passing of Roger Tessier on May 28, 2023 at the age of 90. He died peacefully surrounded by his two daughters whom he cherished.
He joins his beloved wife Claudette LeHoux Tessier and his parents, Claudia Lamarche and Émile Tessier, his sister Angéline Legault, his brothers, Roland and Maurice as well as several brothers and sisters-in-law, nephews, nieces and friends.
In addition to his daughters, Sylvie (Robert Black) and Michèle (Brian Bonini) he leaves in sorrow his grand-children: William, Caroline, Danielle and Patrick and his brother Jules (Mariette) as well as many brothers and sisters-in-laws, cousins, nieces, nephews and friends.
Teacher, handyman and sports enthusiast, Roger was known to those closest to him as a loving and devoted spouse, father, grand-father and brother who cherished his family. He was a good-natured, kind and gentle man who had a passion for learning and yet was as athletic as he was intellectual. Most of all he was one of the most positive people you could ever meet and if you were lucky enough to do so, it wouldn't be long before you were drawn in by that contagious smile and quick witted sense of humour. The profound sadness that we are feeling in this loss is slightly lessened knowing he is exactly where he wanted to be and was happiest, by mom's side.
Your friendship and support as we navigate through this difficult time are greatly appreciated and we would be grateful if you could join us in a final tribute to our father during his funeral service which will be held at Cole Funeral Services & Pinecrest Remembrance, 2500 Baseline Road, Ottawa, on Monday, June 19, 2023 at 11:00 a,m. For those who are unable, but wish they could be in attendance you can join us via live feed at the following link:
https://view.oneroomstreaming.com/index.php?data=MTY4NjE3MjU0MDI1NTQxNCZvbmVyb29tLWFkbWluJmNvcHlfbGluaw==
We extend our heartfelt thanks to the staff of Timberwalk Retirement Residence for the devotion and exceptional care that they provided to dad especially since mom passed away. Our thanks also go to the staff at Queensway Carleton who cared for him in his final months. In lieu of flowers, donations to Parkinson's Canada or to the Queensway Carleton Foundation would be greatly appreciated.
Memorial Service
11:00 am - 12:00 pm
Monday, June 19, 2023
Pinecrest Remembrance Chapel
2500 Baseline Road
Ottawa, Ontario, Canada


Share Your Memory of
Roger