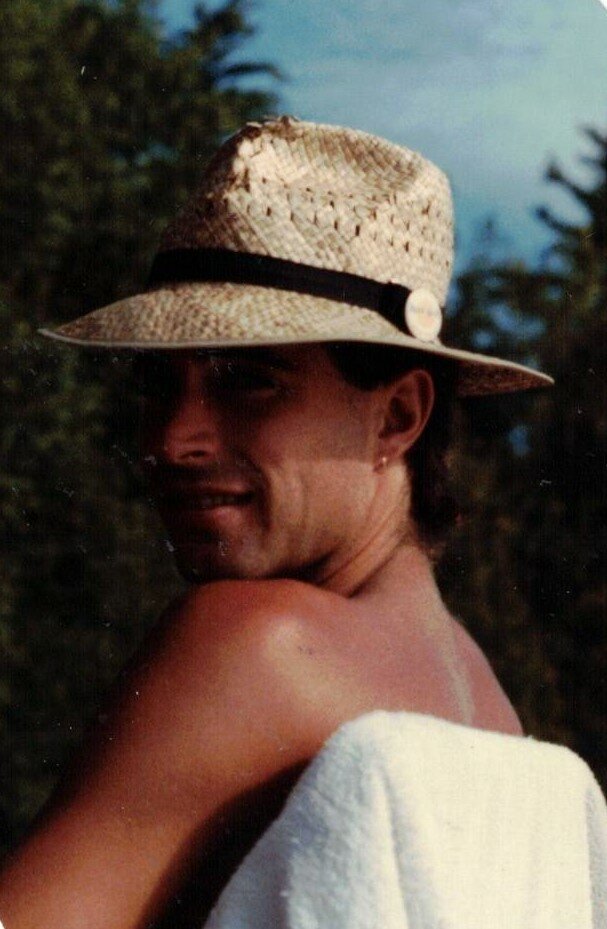 Obituary of Stephen Urie
Steve passed away peacefully with friends at his side at Elisabeth Bruyère Hospital after a short battle with throat and brain cancer.
Steve was the son of Dr. Norman B. Urie and Geraldine C. Urie and grandson of his loving Gram, Nina E. Foreman. Steve is survived by his sister Susan L. Urie (Michael), his niece Bayley S. Taranov, stepmother Colleen Urie, stepbrothers Michael (Sylvie), Wayne, Glenn and Bryan (Cher).
Affectionately known as Norman or Norm by many, Steve lived a very colorful life enjoying many passions and adventures along the way.
Steve worked long and hard in the landscaping business, gaining expertise in a wide cross-section of specialities. Early on he started his own company, Emerald Landscaping. He then worked for many of the major players in the business, managing some significant projects across Ottawa. Interlock was his forte, he was known to be one of, if not the, best in the field.
Steve was involved in many sports (hockey, football, skiing, tennis, golf, to name a few). Starting as a young child he followed in his father's footsteps as a hockey goaltender. He played for Woodroffe High School and various competitive teams (Golden Knights, Penguins, Capital Dodge). He also played "out" as a shinny regular at his Whitehaven neighbourhood outdoor rink.
Steve loved the outdoors. It didn't matter what he was doing, he just liked to be out there. Spending time at cottages, camping, boating, swimming, skiing, he couldn't get enough of it. For many years Steve was an avid fisherman, be it fishing for salmon on rivers along Lake Ontario or for bass in many of the lakes in the Gatineau.
Steve was heavily involved in motocross as both a well-accomplished rider and a mechanic. He loved the speed and risk and was fearless, whether it was during a sanctioned competition or being chased by police in the fields around Whitehaven.
Steve loved his music. He can be remembered sitting in Gerry's basement in his big brown chair listening to Steely Dan, Little Feat, Peter Gabriel, Bob Marley, Genesis, Talking Heads, The Stones. Strange, but often the music was accompanied by a certain haze in the basement….
Steve loved dogs starting with his childhood family dog Scamp, a little white terrier known as Killer. In later years Steve was very attached to his trusting companion Gracie, a big black beast of unknown origin. The loss of Gracie in 2014 was very difficult for Steve.
Steve loved to party and have a good time – he was good at it. He enjoyed his drink, smokes, and the "odd" combustible... Steve caught the eye of many women over the years, some would say he had "the gift". All who enjoyed the good times with Steve have unending stories that bring tears of laughter.
Steve was very intelligent and inciteful, often offering his unique take on a wide array of topics. He loved to laugh, a bellowing laugh so hardy it was infectious. He could also be unpredictable, at times volatile, his temper was legendary. He had many favourite sayings, many that can't be published - some that can: "I'll buy that for a buck", "time for pinties", "if you say so", "toodle-oo", "yu knucklehead", "get er", "let's go get us a box of ales", "slide it Earl", "just go", "WFO", "pin it", "take the ditch", "pickin rhubarb", "flying W".
Steve you will be missed and forever remembered. So many great memories to be shared with all who were lucky to know you. You are now at peace and out of pain and we are sure you are sharing a scotch and smoke with your Mom and Gram.
Special thanks to Queensway Carleton Hospital, Elisabeth Bruyère Hospital, Dr. Marc Gaudet (Ottawa General Hospital), Dr. Andrew Frank (Bruyère), Jackie Abernathy (Smith Falls LED Nurse Practitioner), John Ostrander (Counsellor, Rideau Community Health Services) and dedicated Homecare PSW Janice Pitt (CarePartners).
A gathering to share a drink in honour of Steve will take place in the fall. Details to be announced. If you would like to partake and be notified, please e-mail steveu@rogers.com
Donations to the Canadian Cancer Society in Stephen's honour.


Share Your Memory of
Stephen