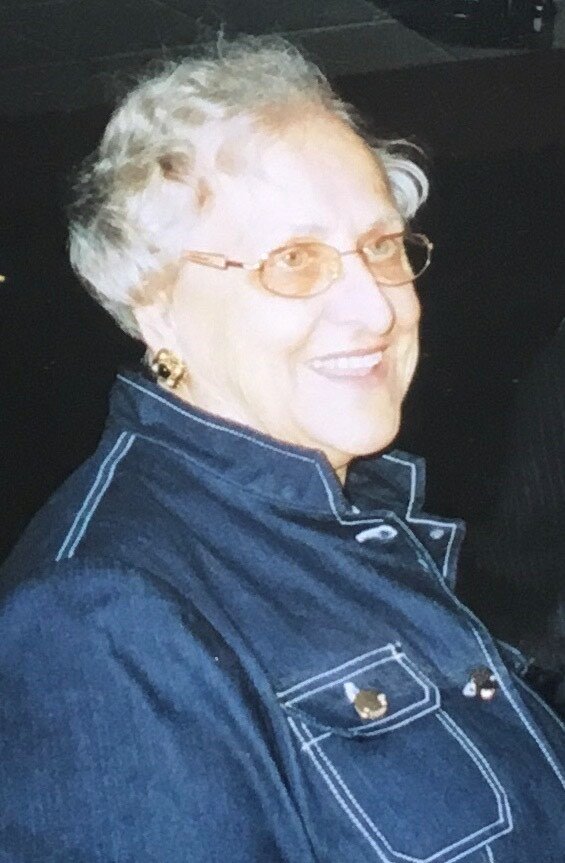 Obituary of Jane Gabrielle Parenteau (LeCavalier)
July 1, 1930- July 4, 2023
It is with profound sadness, but relief, that the family announces the peaceful passing of Jane Gabrielle Parenteau (born LeCavalier) on July 4, 2023, in Nepean, Ontario, at the age of 93. She is predeceased by her husband Pierre, her parents Ada (Bray) and François Gaston LeCavalier, as well as all of her siblings: Jacqueline (late Léo Legault), Pierrette (Robert Plasse), Raymond (Denise Boulay), Charles (Adèle Krause) and Ronald. She leaves behind her niece Susan (late Derrick Kehoe) and her nephew Ronald, for whom she has been particularly present throughout their lives. She also leaves behind many nieces and nephews, and their families.
Cremation has taken place. A Funeral Mass will take place at 2 pm on Saturday, August 26, 2023 at Saint-Donat Catholic Church, 6805 Marseille Street, Montréal, QC. Burial will follow thereafter (3:15 pm) at Cimetière Le Repos Saint-François d'Assise, located at 6893 Sherbrooke Street East, Montreal, QC . Please note that Jane's family will be on hand at Saint-Donat Church (beginning at 1 pm) for 1 hour prior to the funeral mass to receive guests.
Please consider donating in Jane's memory to your local chapter of the Alzheimer's Society or the SPCA. We are thankful for the long-time care given to Jane by the wonderful staff of Longfield's Manor (Nepean). We take great comfort in knowing that Jane now knows who Jane is again.
C'est avec tristesse, mais avec soulagement, que la famille annonce le décès paisible de Jane Gabrielle Parenteau (née LeCavalier), le 4 Juillet 2023, à Nepean en Ontario, à l'âge de 93 ans. Elle fut précédée dans la mort par son époux, Pierre, et ses parents Ada (Bray) et François Gaston LeCavalier ainsi que tous ses frères et sœurs : Jacqueline (feu Léo Legault), Pierrette (Robert Plasse), Raymond (Denise Boulay), Charles (Adèle Krause) et Ronald. Elle laisse derrière elle, sa nièce Susan (feu Derrick Kehoe) et son neveu Ronald Jr., pour qui elle fut particulièrement présente au cours de leur vie. Elle laisse également dans le deuil plusieurs neveux et nièces et leurs familles.
La crémation a eu lieu. Une messe funéraire aura lieu à 14 heures le samedi 26 août 2023 à Église Saint-Donat, 6805, rue Marseille, Montréal, QC. L'inhumation suivra par la suite (15h15) au cimetière Le Repos Saint-François d'Assise, situé au 6893 rue Sherbrooke Est, Montréal, QC . Veuillez noter que la famille de Jane sera sur place à Église Saint-Donat (à partir de 13 heures) pendant 1 heure avant la messe funéraire pour recevoir les invités.
SVP, considérez faire un don à la mémoire de Jane, au chapitre de la Société Alzheimer ou de la SPCA de votre localité. Nous sommes reconnaissants pour les soins de longue durée dont Jane a pu bénéficier de la part du personnel formidable du Manoir de Longfield (Nepean). Nous trouvons un grand réconfort en sachant que Jane peut à nouveau savoir qui est Jane.
Visitation
1:00 pm
Saturday, August 26, 2023
Saint-Donat Catholic Church
6805 Marseille Street
Montreal , Quebec, Canada
Funeral Mass
2:00 pm
Saturday, August 26, 2023
Saint-Donat Catholic Church
6805 Marseille Street
Montreal , Ontario, Canada
Burial to follow
3:15 pm - 3:30 pm
Saturday, August 26, 2023
Cimetière Le Repos Saint-François d'Assise
6893 Sherbrooke Street East
Montreal , Quebec, Canada


Share Your Memory of
Jane