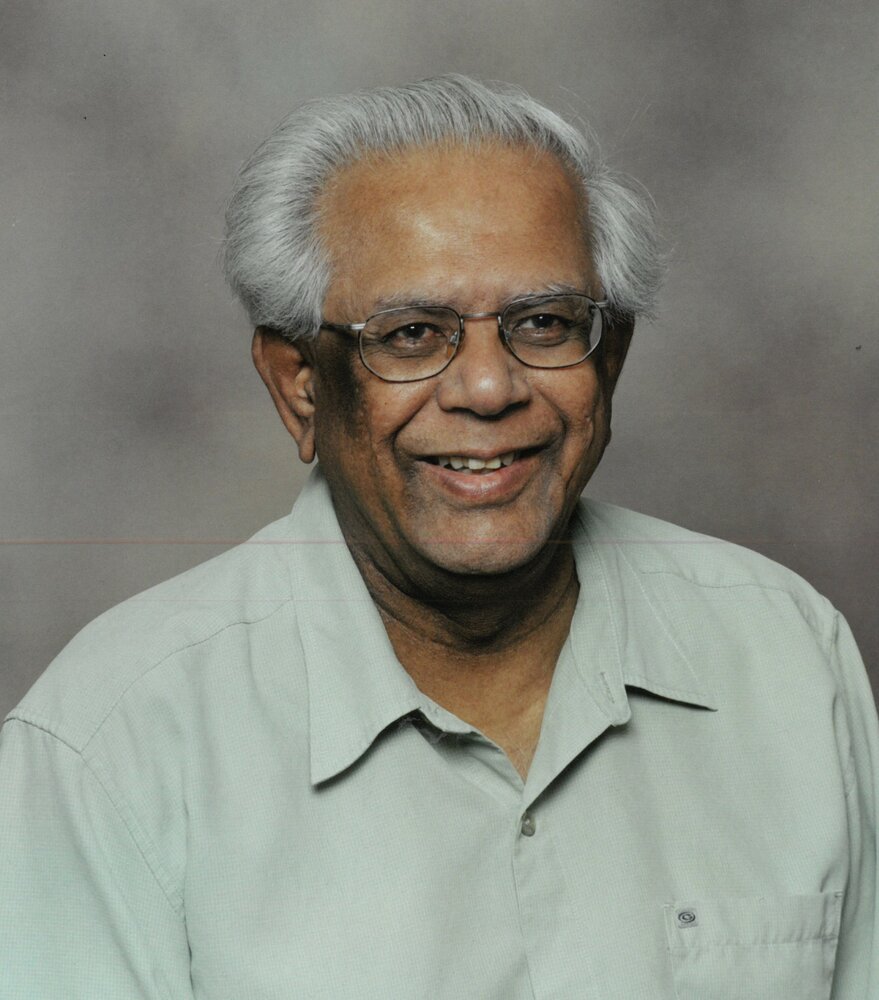 Obituary of Syamal Kumar Batabyal, B.Sc, P.Eng
August 18, 1939 - June 30, 2023
Shyamal Kumar Batabyal passed away peacefully and with dignity, comforted by the love of his family who were with him by his side, on June 30, 2023 in Ottawa, Ontario, Canada. He was a beloved husband, father, grandfather, uncle, brother, cousin, and a great friend to many.
Shyamal will be fondly remembered as a loving and caring person. He was extremely generous and kind. He was also very intelligent and hard-working, and quite humble. He never spoke an ill word about anyone, and with his playful smile and unparalleled sense of humour, he could always make your day. Even though most days were challenging for him due to various health issues, he never once complained and could find the silver lining to any negative situation. He constantly faced life's challenges with a smile and never lost his positive attitude.
He is lovingly remembered by his devoted wife Monique Batabyal (nee Vaillancourt); his children Helen Batabyal and Kanika Batabyal; his sons-in-law Douglas Miller and Anthony Duffy; and by his grandson Viggo Batabyal-Miller, and step-grandchildren Alanna Miller and Sean Miller. He will also be lovingly remembered by his family in India. Shyamal leaves behind his three sisters, Sabita, Sandhya, and Kanika; his brothers-in-law, Ashok and Biplab; his nephews, Amitabh, Indranil, Nilanjan, and Anirban; and his nieces, Paramita, Puloma, Susnata and Anisha. Shyamal was predeceased by his loving parents, Dhirendra Nath Batabyal and Usha Rani Batabyal (nee Goshal); his two loving younger brothers, Nirmal and Bimal; his brother-in-law, Gour; and his beloved cousin, Poulti.
Shyamal was born on August 18, 1939 in Calcutta, West Bengal, India. He grew up very close to his family and with a love for animals. He also loved to play soccer and cricket, and would frequently sneak out of his bedroom window as a child to play a match with his friends rather than go to sleep. He attended University in Calcutta and completed his Bachelor's degree in Science with Honours. He left India by ship and headed to England, where he went on to complete his Chemical Engineering degree at the University of London, again with Honours. Though his family were sad to see him leave, they were very proud of him and his accomplishments. He was the pioneer of his family, and the first to leave India to pursue his academic ambitions. Upon completion of his degree he accepted a position at the Noranda mines in Quebec as a Chemical Engineer, and it was there that he met the love of his life, Monique. They were married on August 8, 1969 and remained happily married until Shyamal passed away. The happy couple began their life together by moving to Gatineau, where their first daughter, Kanika, was born. Shyamal accepted a position in the Federal Government at Industry Canada. They later moved to Ottawa, where their youngest daughter, Helen, was born. Shyamal's job gave him the opportunity to spend many years in Edmonton, Alberta (1983-88), before moving back to Ottawa, Ontario, where he settled for the remainder of his days. After 25 years of devoted public service, Shyamal retired from the Federal Government in 1998. While he may have retired from Public Service, he never retired from his family life. He was always a pillar of strength and knowledge, and a reliable source of leadership, to his loved ones in Canada as well as overseas in India.
In 2001 Shyamal was diagnosed with Colon Cancer, for which he underwent chemotherapy, radiation, and a major surgery which adversely affected his health and mobility for the rest of his life. Though he recovered from and ultimately won his battle against cancer, his health slowly declined over the years as a result of his many cancer treatments. Though his health may have been declining slowly, his mind always remained sharp, and his zest for life never diminished. Another great challenge Shyamal had to face was watching his daughter, Helen, fight to survive advanced Stage 3C Breast Cancer. Though his own health may have been fragile at the time, he summoned up all of his positive energy and love to help keep Helen going throughout her six-year battle to survive. Shyamal was, above all, a selfless man whonever complained, and who was always there to help his family, to ease their pain and suffering in any way that he could, and to provide his constant love and affection for them all.
He was an avid movie lover and sports enthusiast, and his family will remember all of the wonderful movies they enjoyed together at family gatherings, as well as all the hockey and football matches they loved to watch by his side.
Shyamal leaves his family with a legacy of brilliance, a passion for life, and a deep love of family. He will always be fondly remembered. To view the Memorial Service held for Shyamal click this link .
Memorial Service
11:00 am
Thursday, August 10, 2023
Pinecrest Remembrance Chapel
2500 Baseline Road
Ottawa, Ontario, Canada


Share Your Memory of
Syamal