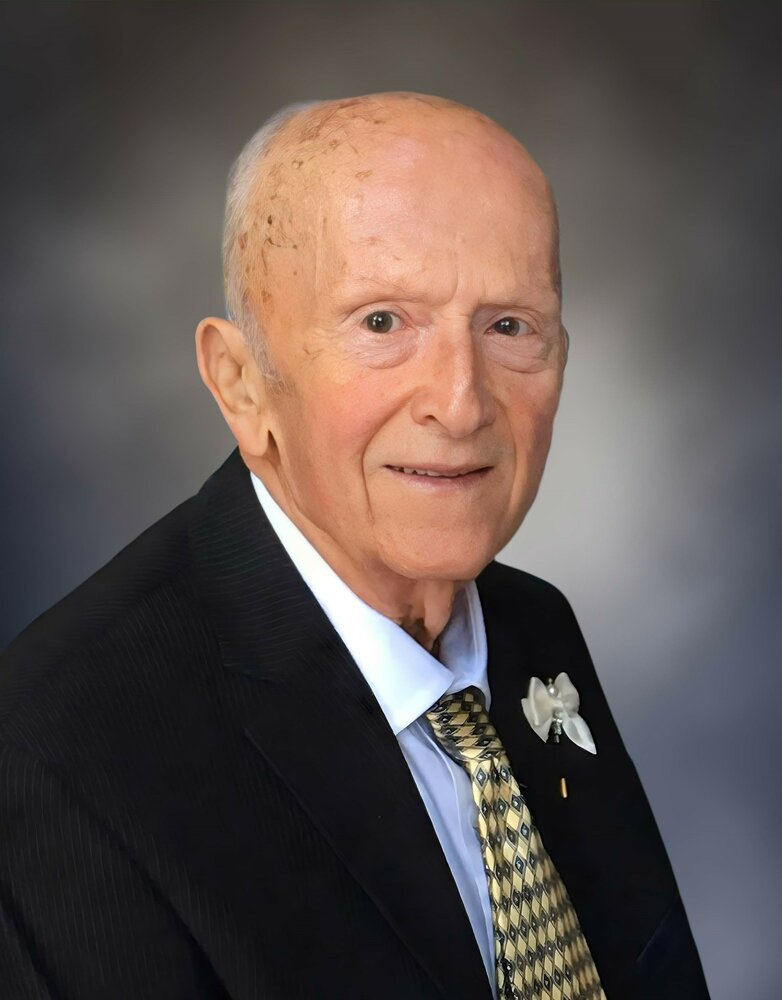 Obituary of Damianos Papadakis
Peacefully on Sunday, August 13th, 2023, with his beloved wife, Claire (in Greek, Hariklia) of 64 years, and his three adoring children by his side, Bessie (Sotiris), Lisa (Costa) and Peter (Maggie).
Damianos leaves behind his treasured grandchildren Eleni and Haroula Giovanopoulos, Leah Watson-Papadakis (Aaron) and Aristidis and Damen Tsotroudis. Damianos' pride and joy were his grandchildren. He attended as many school and sports events as he could just to admire them.
Damianos, or 'Pitsiriki' as he was affectionately called in his youth, was born to the late Vassiliki and Panagiotis Papadakis of Finikounta (Taverna), Greece. He leaves behind his cherished sister Stavroula of Ottawa and sisters-in-law Nitsa and Popi of Greece. He is predeceased by his siblings George (Christina), Eleni (Panagiotis), Giannis, Maria (George) of Greece, and his brother-in-law Fotis of Ottawa.
He also leaves behind his sister-in-law by marriage, Marianthi, and brother-in-law by marriage, Evangelos (Rodica). He will join his much loved and respected in-laws, George and Garifalia Deskes, Areti Deskes, and his buddy, business partner and neighbour, Stavros (Dimitra and their son, George), his brothers-in-law Giannis (Claudette, Evangelia) and Vasilios. They will be awaiting his company for a friendly card game.
There are many nieces and nephews in Canada and Greece whom he cherished. The Papadakis, Sardelis, Deskes, Robins, Tsourakis and Parianos families of Canada and the Papadakis, Gianakopoulos and Choureas families of Greece, in particular. They all had a special place in his heart.
Growing up, our Dad worked on the family fields. This is where he fostered his love and respect for nature and all animals, especially horses. After attending High School in Pylos, he proudly served his Greek Military service. There were many stories he enjoyed sharing from that time.
Damianos sailed across the Atlantic Ocean and landed in Halifax in 1958. He hopped off the train at Ottawa where his sister, Stavroula, awaited his arrival. He was blessed to have the Angelis family look out for him with his first job at their diner. Within a year he met and married his 'honeydew', and they had three children.
Even though our Dad left behind his beloved Greece, he fell in love with Canada and was always so proud to be a Greek-Canadian.
Our Dad had a successful commercial cleaning company, Olympic Building Services Ltd., until the age of 75. He then turned his full attention to his passion of gardening. Even though he had to compete with the local wildlife he was always triumphant in yielding all the ingredients for a delicious Greek salad and more. He really did not eat much of what he grew but he enjoyed sharing them with family, friends, and neighbours.
His Greek Orthodox faith and his sense of 'philotimo' defined his values. He always told us that if we were able to help somebody or do some good then we should. He led by example, supporting many local charities, his Greek Orthodox Church, and the Hellenic Community of Ottawa by volunteering at the Seniors Centre and at the Loukoumades station at GreekFest beside our Mom and many other areas. We have tried and will continue to preserve his legacy. We are very proud that he instilled this in us.
The Papadakis Family would like to thank the Ottawa Hospitals for their dedicated care over the years. To the Villa Marconi Long Term Care staff, a world of gratitude. To our Villa Marconi family of caregivers, thank you for being there for our Dad and for supporting us.
Family and friends may pay respects at the Dormition of the Virgin Mary Greek Orthodox Church, 1315 Prince of Wales Drive, Ottawa, K2C 1N2, on Wednesday, August 16th, 2023, from 5:00 to 7:00 pm with a Trisagion Prayer at 6:30 pm and again on Thursday, August 17th, 2023, from 10:00 to 11:00 am followed by the Funeral at 11:00 am. Interment to follow at Pinecrest Cemetery.
In Memoriam donations to the Hellenic Community of Ottawa or Villa Marconi Long Term Care would be appreciated.
Θα μείνεις πάντα στις καρδιές μας. Καλό Παράδεισο.
Visitation
5:00 pm - 7:00 pm
Wednesday, August 16, 2023
Dormition of the Virgin Mary Greek Orthodox Church
1315 Prince of Wales Drive
Ottawa, Ontario, Canada
Visitation
10:00 am - 11:00 am
Thursday, August 17, 2023
Dormition of the Virgin Mary Greek Orthodox Church
1315 Prince of Wales Drive
Ottawa, Ontario, Canada
Funeral Service
11:00 am
Thursday, August 17, 2023
Dormition of the Virgin Mary Greek Orthodox Church
1315 Prince of Wales Drive
Ottawa, Ontario, Canada


Share Your Memory of
Damianos