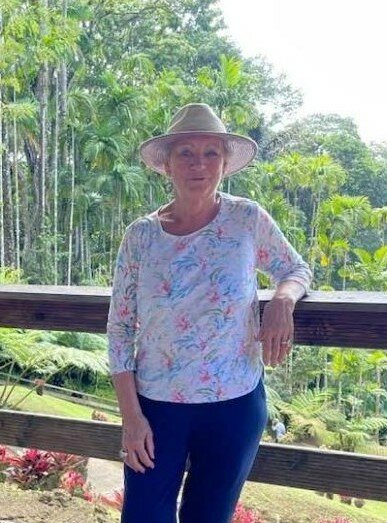 Obituary of Nancy Jane Buerman
Nancy Jane Buerman (71) passed away peacefully and without pain on Sunday, August 20th with her son at her side. Nancy had been battling Endometriotic Cancer since 2020. The disease metastasized to her lymphatic system and then on to her brain. She passed just 25 days after being diagnosed terminal. Despite this short journey, Nancy never quit, she fought for every inch and during this 3-year journey, she continued to live her life to the fullest.
Born October 9th, 1951 to Elaine and Alec Wall in Winnipeg Manitoba, Nancy is survived by her only son Derek, his partner Angela, her two Grandchildren Welsey and Kiana and her two brothers, Brian and Brad and their spouses, and predeceased by her sister Cathy Breaks, and husband Ben Buerman.
Nancy was born into a military family. Her father Alec was a survival instructor, and his profession required the family to move frequently, some locations more remote than others. She often did not see her father for many months at a time. Being the eldest of four children, Nancy grew up quickly. Nancy's unique characteristics, loved by so many, were forged in her early years and although she did not speak of her youth often, frequent moves planted the travel bug that eventually flourished fully in adult life.
Nancy always aspired for post-secondary, but life presented her with other responsibilities, the birth of her only child Derek, at an early age. Nancy bore Derek in Vancouver and within three months moved back to Germany where she worked tirelessly to provide a stable, healthy and safe life for she and her son. Nancy eventually became a buyer for CANEX (Canadian Forces Exchange) in Lahr Germany where she worked for over 20 years. It was around this time that Nancy met her soulmate and future husband, Ben.
Lahr Germany, housed the head of theatre of military operations. It was the hub for the Canadian armed forces from the 70's to early 90's. Located in the Black Forest, Lahr was geographically ideal for quick and easy travel, just 20 and 60 minutes from the French and Swiss borders respectively. Italy was a five-hour drive through some of the more beautiful Swiss mountain passes in the summer. As such, local and more far-reaching travel throughout Europe were regular occurrences over the years Nancy lived in Germany.
Among the many highlights were annual Easter and Thanksgiving trips to Ventimiglia Italy, where a long-time family friend owned a hillside resort. Life was well lived in those years, as proximity to some of the world's greatest historical sites, world class beaches, steepest ski slopes and finest restaurants were all within reach of a moderate car ride.
Nancy married Ben in what became their favourite part of the world, Maui, Hawaii. Their wedding celebration took place at the Ottawa Four Seasons Hotel of which the wedding party emptied the hotel's stores of Veuve Clicquot Champagne. They would return annually to Maui to celebrate their life, relax from the rigors, and share the beauty of the island with family and friends. Maui brought them peace, joy, and many new friendships.
Nancy sadly lost her husband, Ben in 2012 causing a void in her heart that would never be filled. Despite this heartbreaking loss, Nancy did not slow down or stop. She forged ahead with her life, traveling to new parts of the world she had yet to visit, while returning to some old stomping grounds from her past to rekindle the fondest of memories.
Even throughout her three-year treatment, Nancy did not stop planning travel between treatments, visiting friends and family around the globe. The list of cities and countries Nancy has traveled to are truly endless, highlights including Australia, New Zealand, Vietnam, Cambodia, Japan, UAE, Kenya, Egypt most or Europe and North America.
Nancy was the glue that brought people and groups together. She was the planner, organizer and spirit that collected families, friends and even strangers to one another. Planning a meal, ensuring all would be satisfied was par for course. Even in her final days, she was concerned that all visitors ate well and had their fill of vino.
Nancy truly lived life to the fullest – it was her wanderlust! She worked hard and played equally hard, understanding the art of working to live. Nancy has left a hole in so many hearts. Her kindness, generosity and infectious laugh made Nancy the warmest of people. She always had a supportive and wise comment should one require such; and the truth should that be what was required. Her delivery, followed by a loving and supportive smile made those messages, moments of learning.
Nancy Buerman will be missed by all whose lives she touched. Her family rests knowing she is reunited with the love of her life, and she continues to keep a protective and wise watch over her son and grandchildren, mostly likely while enjoying a bold Tuscan with Ben. We will never walk alone as your memories and wisdom shall be carried forward.
In memory of Nancy, donations are welcome to the Ruddy Shenkman Hospice, or to the MKV Relief Fund for survivors of the Lahaina Maui fires in her honour.


Share Your Memory of
Nancy