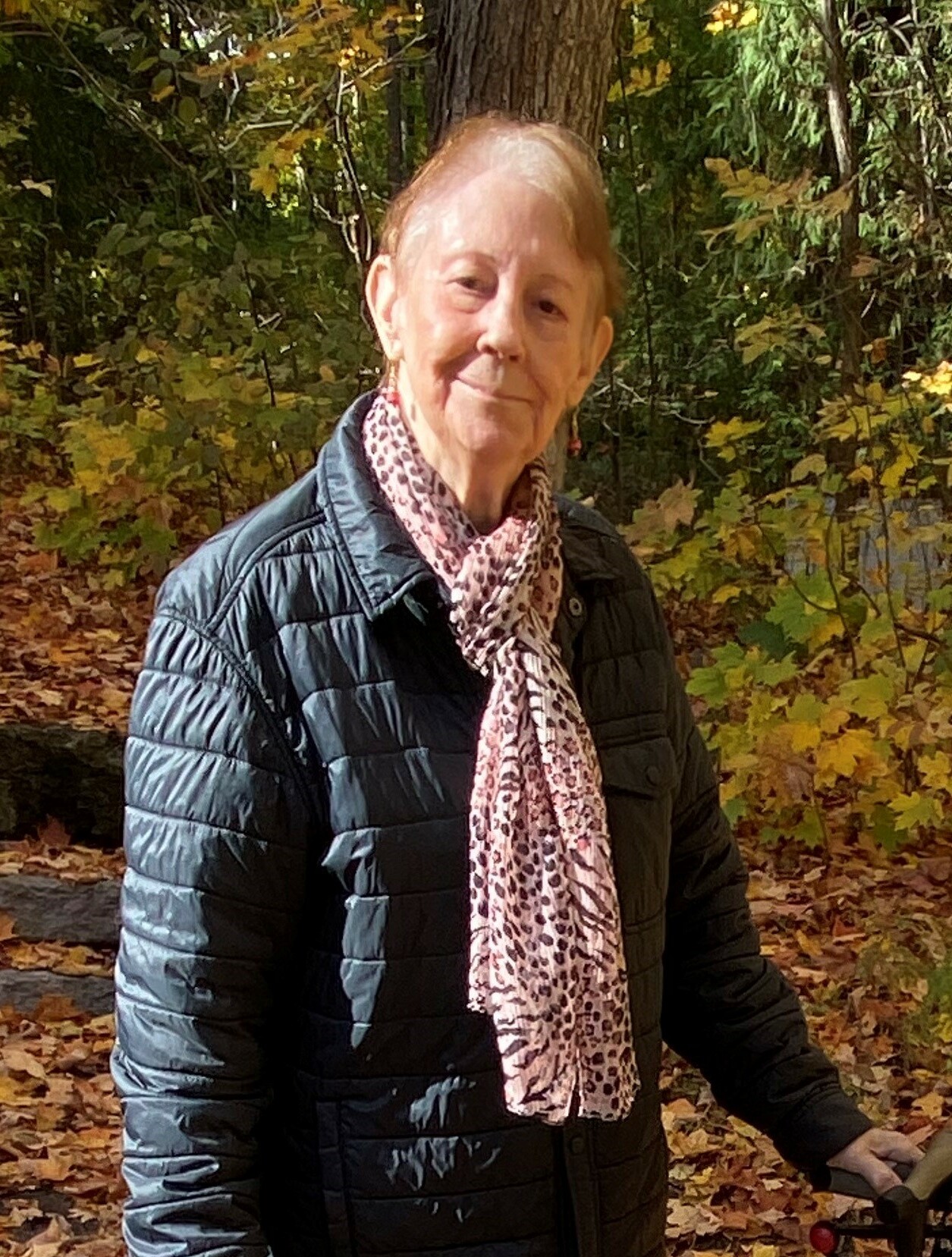 Obituary of Sarah Hamilton
We are sad to announce the passing of Sarah Joy Hamilton of Ottawa. On Tuesday, September 19, 2023, in her 83rd year, Sarah passed away peacefully in hospital from complications of pneumonia.
Sarah was born on October 19, 1940, the only daughter of the late Joy Ephgrave and James David Boyd Hamilton. She was older sister to brother Nick Hamilton (wife Cynthia), of New Zealand.
Sarah will be very much missed by her four children, their spouses, and beloved 11 grandchildren: daughter Clare Gee (née Younge) and Andrew Gee, children Walker, Kinley and Wynne; daughter Jane Younge and Carlo Bellabarba, children Julia and Nadia, daughter Tricia Suys (ne Younge) and Stephan Suys, children Samuel, Nathaniel and Luke, and son Stephen Younge and Kim Brandenburg, children Laura, Connor and Caroline. Sarah had recently seen and hugged all four of her children, and had an opportunity to visit with her grandchildren, both near and far.
Sarah was born in Mersea, Essex, England. She had fond childhood memories of spending summers with cousins Richard and Crispin. Sarah immigrated to Canada in the 1960s, settling in Montreal where she worked as a nurse and made many new friends. Sarah met future husband Dale Younge while in Montreal. After marrying in June 1965, Dale and Sarah ultimately settled in Ottawa, in Bells Corners (Lynwood Village) to raise a family. Sarah became a homemaker and active member of the community, volunteering at church and for the neighbourhood Welcome Wagon. She enjoyed participating in book clubs, afternoon teas, and thoroughly enjoyed visiting her kids and grandkids, while perfecting the art of gluten-free cooking and baking. Sarah separated from Dale in 1985, but she always considered him a dear friend and was saddened by his passing in 2005.
In her later years, Sarah maintained a fierce independence, living solo in a lovely condo in the west end until July of this year. She was a keen Scrabble player, and never lost her winning form right up until her final visit to hospital. Sarah's family was very fortunate that Sarah's mental acuity allowed for fond memories to be made in visits, and telephone and video calls. Sarah had a circle of friends who will miss her, although several dear acquaintances have predeceased her.
A Memorial Service will take place at Cole Funeral Services & Pinecrest Remembrance, 2500 Baseline Road, Ottawa on Saturday, November 25, 2023, at 11:00 a.m. A time of fellowship and refreshments will follow in the Pinecrest Solarium.
In lieu of sending flowers, donations can be made in Sarah's name to the Canadian Celiac Association - Ottawa Chapter, P.O. Box 39035, Billings Bridge PO, Ottawa, Ontario, K1H 1A1, and to the Humane Society of Ottawa-Carleton, 245 West Hunt Club Rd., Ottawa, Ontario, K2E 1A6.
Memorial Service
11:00 am - 12:00 am
Saturday, November 25, 2023
Pinecrest Crematorium
2500 Baseline Road
Ottawa, Ontario, Canada
Reception
12:00 pm - 2:00 pm
Saturday, November 25, 2023
Pinecrest Solarium
2500 Baseline Road
Ottawa, Ontario, Canada


Share Your Memory of
Sarah