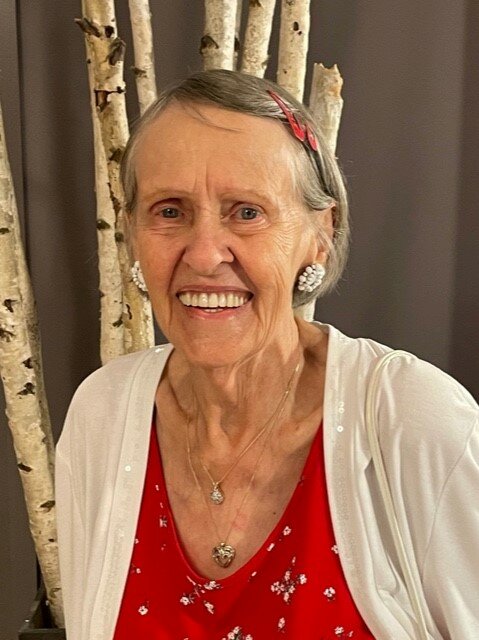 Obituary of Marylyn Janet Viola Champagne (nee Kidd)
Marylyn passed away peacefully on October 1, 2023. She was pre-deceased by her loving husband Leonard, mother Viola (nee Gardiner), father John, siblings Kenny, Eddie, Arnold, Irving, John, Malcolm, Donnie, Vernon, Marjorie, Sylvia, Gregg, and great-grandson Oliver. Marylyn leaves behind her sister Mavis O'Neil (nee Kidd), children Cindy Vieau (Chris), Gord (Joan), David (Gary), Gary (Mary), grandchildren Amanda Adams (Bill), Matthew (Rachel), Scott (Rebecca), Eric (Kymberly), Kelsey (Vincent), Brett (Emily), Colin (Katelyn), great-grandchildren Devyn, Liam, Blake, Everly, Quillan, Luke, and Hendrix, as well as many other family and friends.
In June of 1936, Marylyn was born, the 10th child of 13 children. Her family lived both within the city and at a farm house in Shirley's Bay. She shared the responsibility for raising chickens, collecting eggs, and would deliver them by bicycle and, at times, by street car. Two of her brothers fought in WWII.
Marylyn attended Hopewell Public School and a one-room school house in the country. She began her high school studies at Nepean High School, leaving part way through to work and to contribute to her family. She completed her studies years later, receiving her high school diploma along side her husband in 1995.
Marylyn worked at Beamish's department store and later at the Ottawa Transit Commission (OTC) where she met the love of her life, Leonard Champagne. They began dating in 1954 and married in September 1957.
Marylyn and Len, with three children in tow, purchased a home in 1965 in Ottawa's west end, welcoming their fourth child the following year. Once the children all attended full time school, Marylyn worked at a daycare, as a lunch time monitor at a local school, and later as a teaching assistant at Regina Public School where she remained until her retirement in 2001. Marylyn made many friends at Regina, maintaining those friendships for life.
Marylyn and Len made their home a welcoming place. Over the span of many years, they hosted birthdays, showers, engagements, weddings, graduations, and parties with a wide variety of themes (such as Grey Cup, Country and Western, New Years Eve, Halloween, Karaoke, and others). Their table at Christmas, Easter and Thanksgiving often welcomed family and friends alike. Marylyn loved many traditions, one in particular being a hike with family every Thanksgiving weekend on the Champlain Trail in Gatineau Park.
For hobbies, Marylyn liked to stay active, bowling in a league with Len, square dancing, playing golf, gardening, playing games, reading, baking, and cooking. She was known to never pass up a good water fight. She was a very talented cake decorator and made countless cakes for celebrations, including many weddings. She enjoyed travelling locally and abroad, visiting many places in Ontario and Quebec, western and eastern Canada, the USA, Germany, the Caribbean, and Ireland. Marylyn also enjoyed taking and sharing many photos with friends and family. Above all, Marylyn loved spending time with friends and family.
In 2014, Len was diagnosed with Alzheimers. With the support of family, Marylyn cared for Len at home through his progressing Dementia to early 2019. They celebrated their 60th anniversary in 2017 and Len passed away in 2019.
Marylyn had an incredible strength of spirit. Living on her own, she experienced the isolation and worry with the spread of COVID-19 in early 2020 however she continued her usual routines safely and enjoyed weekly game nights with her family over Zoom.
In 2022, Marylyn was diagnosed with Dementia and late stage colon cancer. Following surgery, Marylyn moved to Embassy West Senior Living. While she dearly missed her home of 57 years, she walked most days and participated in many activities, especially those involving music, singing and dancing. She loved to sing and was known to play her harmonica on several occasions. Marylyn actively built relationships with residents and staff alike.
Our sincerest gratitude to the staff at Embassy West Senior Living for their supportive and compassionate care, especially in Marylyn's final days.
Family and friends are invited to Pinecrest Remembrance Services, 2500 Baseline Road on Monday, October 9, 2023 from 6-8pm with a memorial service taking place on Tuesday, October 10, 2023 at 11am. For those who wish to view the service virtually, please click HERE
Donations in lieu of flowers can be made to the Canadian Cancer Society or the Dementia Society of Ottawa and Renfrew.
Visitation
6:00 pm - 8:00 pm
Monday, October 9, 2023
Pinecrest Visitation Centre
2500 Baseline Road
Ottawa, Ontario, Canada
Memorial Service
11:00 am - 12:00 pm
Tuesday, October 10, 2023
Pinecreset Remembrance Chapel
2500 Baseline Road
Ottawa, Ontario, Canada


Share Your Memory of
Marylyn