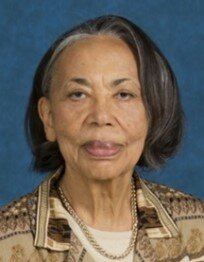 Obituary of Hyacinth Elaine Williams
Mar 20, 1938 - Oct 21, 2023
Peacefully in the early morning, 21 October 2023 at the age of 85. Hyacinth was born to Aubrey and Amy Malcolm (DaCosta) on March 20th, 1938, in Jericho, Hanover, Jamaica. She was the youngest of six children (Muriel, Alfred, Lillian, Etta, George, and Hyacinth). Affectionately known as Aunt Bess (Hyacinth) was a loving Aunt to Leigh-Ann, Janine, Mark, and Hugh. Great Aunt to Jaden, Elayna, Chereen, Tempany, Reio, Tyrese, Nevaeh, and James.
Hyacinth graduated from Nursing College (1963) in London, England and emigrated shortly after to Ottawa, Canada where she was a Registered Nurse (RN), first at the General Hospital, then for a short time at the Queensway Carleton Hospital, and lastly at St. Vincent Hospital. Over 30 years of dedication and service to others.
Hyacinth will be dearly missed, she was loved by all her extended family, her many dear friends and people that she met and knew.
For the celebration of Hyacinth life, there will be an evening visitation from 5:00 pm to 8:00 pm October 25th 2023 at the Pinecrest Visitation Center (2500 Baseline Road, Ottawa, ON). Funeral Service will be held at St. Paul's Presbyterian Church (971 Woodroffe Avenue, Ottawa, ON) at 11:00 am, October 26th 2023. Following the service will be a celebration reception to be held in the St. Paul's Presbyterian Church Great Hall reception room.
At the same time, certain family members, and those who would like to attend for the departure for burial at Pinecrest Cemetery and then return to join the celebration reception back at St. Paul's Presbyterian Church reception room.
The family would like to thank Timberwalk Retirement Community Centre for welcoming and making Hyacinth a resident of the retirement community. In addition, the family would like to thank the Ruddy Shenkman Hospice who's care, and love provided to Hyacinth was a tremendous comfort and blessing.
Donations to Hospice Care Ottawa, Ruddy-Shenkman or the Canadian Cancer Society would be appreciated.


Share Your Memory of
Hyacinth