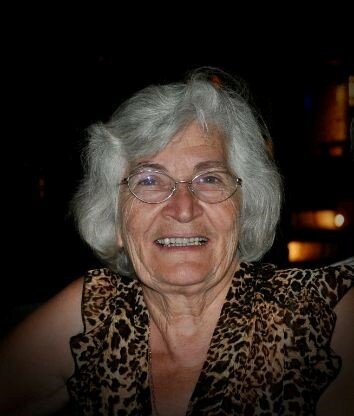 Obituary of Effrossyni Zerbinos
It is with great sadness we announce the passing of Effrosini (Froso) Zerbinos (82) who passed away peacefully on October 27, 2023.
Froso is survived by Panayotis, her husband of 55 years, her sons Andreas (Chrysanthi) and Pery (Sarah). She will be greatly missed by her nephews Michael and Perry (Catherine) Ghioureliotis and her grandchildren and great-nephews Maria, Peter, Lukas, Matthew, Alex and Leo, as well as her brother Giorgos Menexis in Holland and her 2 sisters Anna Rovatsos and Demitra Vourthi in Greece.
Froso was born in the small Greek village of Kyparissi, Lakonia to Periklis and Panayota Menexis on December 28,1940. In 1967, like many Greeks of her time, Froso embarked on a life-changing journey to Canada, leaving her homeland to seek new opportunities across the Atlantic. From boat to train, she would eventually end up in Montreal, where she was warmly reunited with her brother, Spiros and sister Eleni. In Montreal, she found employment with a clothing manufacturer, as she embraced the spirit of hard work and perseverance that defined her life. In early 1968 she met her soon-to-be husband, Panayotis, and would marry in the fall of 1968.
As Froso and Panayotis built a life for their growing family, they first made their home in Montreal, then Trenton, and eventually found a peaceful haven in the Ottawa Valley, settling in the charming town of Deep River, where they would spend 15 fulfilling years running the Deep River Family restaurant alongside their extended family.
Froso's legacy is one of selflessness and hospitality. She was a beacon of generosity, always placing others before herself. No one left her presence without being fed and cared for, and there was perpetually an open seat at her dinner table for her sons' friends. Her kindness and warmth knew no bounds, and she touched the lives of many.
Although Froso spent most of her adult life in Canada, her heart remained forever with her homeland. She cherished her memories of the village of Kyparissi, where she spent her formative years. These memories provided her with a deep connection to her heritage and traditions that she lovingly shared with her family.
Froso's passing leaves a void in the hearts of those who were fortunate to know her. Her spirit of kindness and her unwavering love for her family will be cherished and remembered for generations to come.
Family and friends will be received on Tuesday, October 31, 2023 from 10:00 - 11:00 a.m. at the Dormition of the Virgin Mary Greek Orthodox Church,1315 Prince of Wales Dr., followed by the funeral service at the same location at 11:00 a.m. Interment will follow at Pinecrest Cemetery, 2500 Baseline Rd. A reception will follow at the Hellenic Event Center.
In lieu of flowers, the family kindly requests donations to be made to Canadian Cancer Society or to the Dormition of the Virgin Mary Greek Orthodox Church in honor of Froso's memory.
A special thank you to the staff at the Villa Marconi for their care and support over the last few months.
Froso's legacy will live on in the hearts of her family and friends. May she rest in peace.
Visitation
10:00 am - 11:00 am
Tuesday, October 31, 2023
Dormition of the Virgin Mary Greek Orthodox Church
1315 Prince of Wales Drive
Ottawa, Ontario, Canada
Funeral Service
11:00 am
Tuesday, October 31, 2023
Dormition of the Virgin Mary Greek Orthodox Church
1315 Prince of Wales Drive
Ottawa, Ontario, Canada
Interment
Pinecrest Cemetery
2500 Baseline Road
Ottawa, Ontario, Canada
613-829-3600


Share Your Memory of
Effrossyni