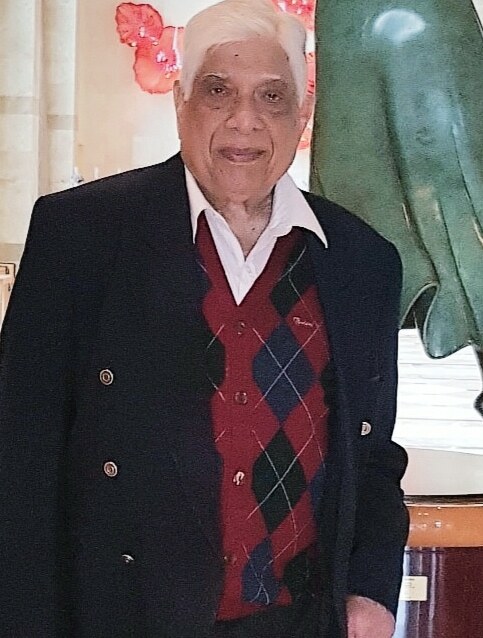 Obituary of Satindra Kumar Sahni
May 8, 1937 - November 7, 2023
Left for his heavenly abode peacefully at home. Dutiful son of the late Shri Amar Nath Sahni and the late Smt. Ram Pyari Sahni. Beloved husband of the late Smt. Veena Sahni and the late Smt. Meena Sahni. Adoring brother-in-law of Smt. Kanta Sahni and Smt. Surrinder Sahni. Cherished brother of Smt. Rama (the late Adarsh Seth). Loving father of his late son Sanjay, daughter Shalini, son Virat (Marie), daughter Puja and doting grandfather to his precious grandson Khelan. Fatherly uncle to his many nephews and nieces, respected patriarch of the extended Sahni family, and dear friend to many.
Predeceased by his brothers Shri Krishan Lal, Shri Surinder Pal, Shri Kanwal Nain (the late Smt. Nirmal Sawhney) and sisters Smt. Nirmal (the late Shri Ram Lubhaya Sodhi) and Smt. Promila (the late Shri Praveen Bhandari).
An extremely hard working, resilient, adventurous, loyal, committed, jovial spirit who left his homeland of India in his twenties. He supported his family as a civil engineer while living in the UK and Canada. He humbly faced life's challenges with amazing strength and grace. He will be terribly missed by all. His legacy will live on through our precious memories and his grandson Khelan.
Visitation will begin at 10:00 a.m, with Family Tribute offered at 10:30 a.m. on Monday, November 13, 2023 at Pinecrest Visitaiton Centre, 2500 Baseline Road. Funeral Service will be held at 11:00 a.m. For those unable to attend in person, you are welcome to join virtually via this link.
In lieu of flowers, donations can be made to the Ottawa Heart Institute.
Visitation
10:00 am - 10:30 am
Monday, November 13, 2023
Pinecrest Visitation Centre
2500 Baseline Road
Ottawa, Ontario, Canada
Family Remarks
10:30 am - 11:00 am
Monday, November 13, 2023
Pinecreset Visitation Centre
2500 Baseline Road
Ottawa, Ontario, Canada
Funeral Service
11:00 am
Monday, November 13, 2023
Pinecrest Remembrance Chapel
2500 Baseline Road
Ottawa, Ontario, Canada


Share Your Memory of
Satindra