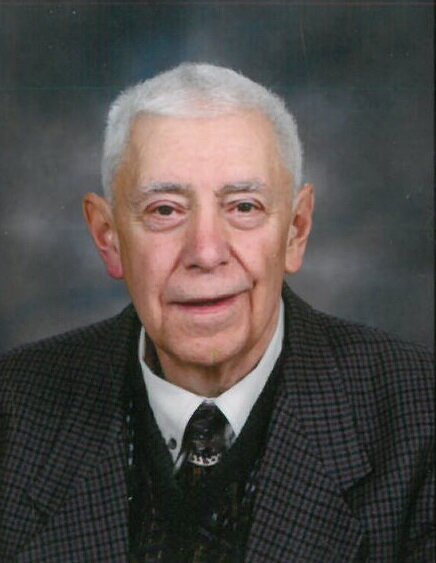 Obituary of Peter Julian Bangs
It is with deep sadness that the family announces the passing of Peter Bangs on Sunday, February 19th, 2023 following a short illness. He will be lovingly remembered by his four children, Robert (Lina Denault), Joanne (Terry Murphy), Peter (Anne Lise Gauthier) and Paul (Suzie Grah) and his cherished grandchildren Kelly, Ryan, Matthew, Katherine, Jason, Nicholas, Jacob and Marc.
Peter was born on January 3, 1936 to parents, Leonard and Estelle Bangs (nee Chaput) in Sudbury, Ontario. His beloved sister, Louise (predeceased) was born 8 years later. In the early years, his father's job at CP Rail saw the family move frequently throughout Ontario and Quebec. Peter eventually went to the University of Toronto to study law but then realized his true passion was teaching. After successfully completing teacher's college, he accepted a position with Glebe Collegiate High School in Ottawa. During this time, he met the love of his life, Margaret (Lynne) Foran from Winnipeg, MB, and the two soon married and remained soulmates up until her sudden passing in 2008. He never truly recovered from a broken heart.
Dad unconditionally loved his family. Losing his own father at a young age, he quickly became the patriarch of the family. He often coordinated summer togethers at the family cottage at Lac Talon, Mattawa, ON with his cousins from Akron, Ohio, and relatives from Southern ON and Winnipeg, MB. Many fond memories included Rummoli nights, swimming and lounging on the beach, lots of food and laughter, and the occasional bear sighting when going to the outhouse.
Peter was especially close to his many sisters and brothers in law - Joan Foran (John Farrell), Frank and Pat Foran, Ron and Myrna Foran, the late Jim Foran (Mae), the late Ken Foran and the late Rick Shand – husband of his late sister Louise. He adored his many nieces and nephews, and his dear friends that he stayed in close contact with over the years.
Peter had an illustrious 35 year career as the Head of the History Department at Glebe. He built lifetime friendships with his colleagues and stayed in touch with many of his students who went on to have successful careers of their own.
An avid sports fan, Peter was in his glory when coaching the Glebe school soccer and hockey teams. He also spent numerous years acting as President and co-ordinating the Juvenile Division of the West End Hockey League.
Peter had a deep passion for politics, music and the arts and social causes. He was a devoted fan of the CBC. He was fond of the Metropolitan Opera and many other genres of music. He was an avid reader of political autobiographies and loved a good debate.
Peter had a great sense of humour. He would often blurt out the answers during Family Trivial Pursuit Games even when he removed himself from playing. More recently he did the same thing this past Christmas when the family was playing a game of Kahoot. Much to the family's surprise he yelled out the correct answer even though he rarely spoke due to his advanced Parkinson's. Best Christmas present ever!
Dad was fiercely smart, compassionate, gentle and generous to a fault. He didn't hesitate to help those in need and was a strong advocate for the less fortunate, no matter what their circumstances were. He was a devout Catholic and stayed true to his faith right until the end.
Above all, Dad was a fighter. Diagnosed with Parkinson's in his middle years, he fought through the crippling disease right until his final days. He also battled and survived Covid twice during the height of the pandemic. He gave it his all but in the end he was too weak to carry on.
Rest in peace Dear Dad. You're our hero and you will never be forgotten. Thank you for the love, the joy, the laughter and the impact you have had on our lives.
Friends and family may pay respects at the Cole Funeral Services (2500 Baseline Rd.) on Monday, February 27 from 2:00 p.m. to 4:00 p.m. and 7:00 p.m. to 9:00 p.m. Funeral mass will be on Tuesday, February 28 at 11:00 a.m. at St. Basil's Parish (940 Rex Ave) with interment and reception to follow at Pinecrest Cemetery.
Donations in memory of Peter to the Parkinson's Society Central and Northern Ontario would be appreciated.


Share Your Memory of
Peter